Golf Rules of Two Man Scramble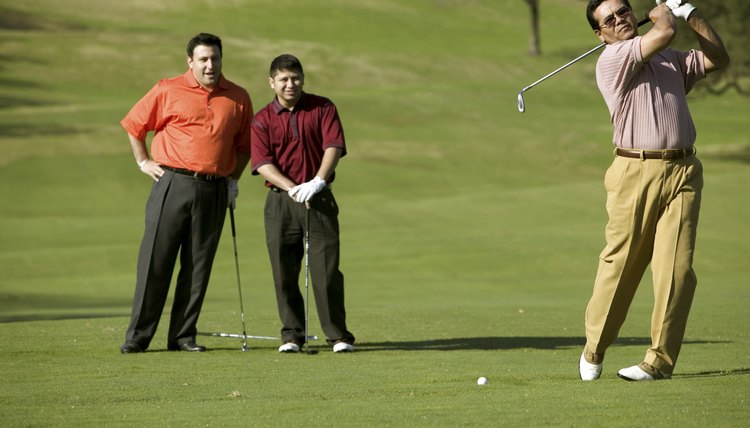 Golf is played at courses in thousands of cities across the United States, with many of those courses holding outings and events. While many tournaments are strictly stroke play, certain events adopt different formats, such as best ball, alternate shot or a scramble. Scramble tournaments are perhaps the most common, in either two-man or four-man versions.
At the Tee Box
In two-man scramble tournaments, you will be paired up with a partner with whom you will play for the duration of the round. At the tee box on each hole, you will hit your ball, as will your playing partner. After both balls land, you will decide which ball is in the more favorable location, and then both players will hit the ball from there. This means that if one shot is hit into a hazard or out of bounds, the twosome will still have one ball to play with on the second shot.
Second Shot
After the players decide which ball to use for the second shot, both players will hit the second shot from that location. The same process is used for the third and fourth shots, or however many shots it takes to get on the green. Players are normally not required to hit the ball from the exact same location, but the lifted ball must be placed within one scorecard's width of the other ball that is being played.
On the Green
When the teams reach the green, they follow the same protocol for deciding which shot was preferable between the two players as they did from the tee box and fairway. The only difference on the green is that the lifted ball must be placed within one putter-width of the other ball marker, as a scorecard width makes a much bigger difference from closer distance as opposed to over 200 yards away. After the ball is holed, the team keeps one score of how many strokes it took to hole out.
Variations
Not every two-man scramble tournament is the same from one course to another, and some courses and tournaments may have twists or variations on the traditional rules. For instance, some scramble formats require you to use a certain amount of tee shots from each player during each round, and some tournaments require you to use a different player's shot each time. Some formats also have different rules for par three holes, such as requiring players to play the hole traditionally and then simply pick the lower score of the two for the hole.
Writer Bio
Chris Callaway started writing professionally in 2007 and has worked as sports editor, managing editor and senior editor of "The Racquet" as well as written for the "La Crosse Tribune" and other newspapers in western Wisconsin. He graduated from the University of Wisconsin-La Crosse with a Bachelor of Arts in English and communications.