Tips for Marine Corps PFT 100 Situps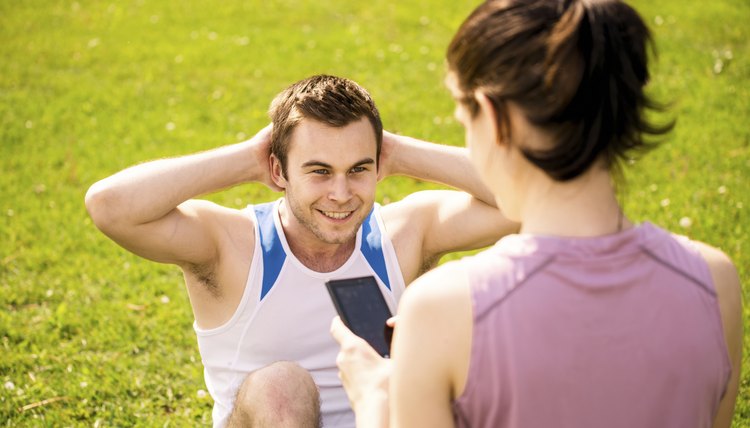 Situps are an integral the fitness of any Marine. Because of their nature as front-line warriors, Marines must keep their bodies in shape, and the Corps uses the situp to strengthen their core abdominal muscles. While traditional situps generally call for the hands to be interlocked behind the head, this position is often associated with strain on the neck. The Marine Corps keeps the arms across the chest and refers to the exercise as a crunch, though functionally they are the same.
Form
Proper form for Marine Corps situps requires that you are flat on your back with your feet flat on the ground. Your knees should be bent at a 90-degree angle. Keep your arms across your chest, with your palms against your upper chest. To complete the situp, you must raise your torso up until your elbows touch your thighs, then lower your torso to the ground until your shoulder blades connect with the floor. This is one repetition. To max the crunches on the Marine physical fitness test, you must do 100 in two minutes
Endurance
To do 100 situps in two minutes, you need to build muscle endurance in your abdomen first. Focus on doing sets of 100, or your maximum amount possible, regardless of time. If you are not yet able to do 100 situps, focus on getting there. Ensure you are maintaining proper form throughout your maximum set. Rest in between sets, and repeat two to three times a day. The best way to increase your situp maximum is to do more situps.
Speed
One hundred situps in two minutes is 50 a minute, or roughly 1.2 every second. Build up speed to keep up this pace. Combine a speed workout with your endurance workout schedule. Do 30 situps in proper form, as fast as you can. Do several sets of these to build up speed and strength. To make 100 situps in two minutes, you need to do 33.3 situps in 40 seconds in three consecutive sets.
Incline Situps
To increase muscle strength, find an incline board, either using surfaces in your home or area or at a gym. Do several sets of inclined situps at maximum pace and endurance. If you want extra strength-building through resistance, hold onto weights with your arms while sitting up. Keep the weight close to your chest, as if in a proper form, so you don't use the weights as counterweight when sitting up.
References
Chang WD, Lin HY, Lai PT. Core strength training for patients with chronic low back pain. J Phys Ther Sci. 2015;27(3):619-22.
Akhtar MW, Karimi H, Gilani SA. Effectiveness of core stabilization exercises and routine exercise therapy in management of pain in chronic non-specific low back pain: A randomized controlled clinical trial. Pak J Med Sci. 2017;33(4):1002-1006.
Hsu SL, Oda H, Shirahata S, Watanabe M, Sasaki M. Effects of core strength training on core stability. J Phys Ther Sci. 2018;30(8):1014-1018. doi:10.1589/jpts.30.1014
Hung KC, Chung HW, Yu CC, Lai HC, Sun FH. Effects of 8-week core training on core endurance and running economy. PLoS One. 2019;14(3):e0213158. Published 2019 Mar 8. doi:10.1371/journal.pone.0213158
Huxel Bliven KC, Anderson BE. Core stability training for injury prevention. Sports Health. 2013;5(6):514-522. doi:10.1177/1941738113481200
Reed CA, Ford KR, Myer GD, Hewett TE. The effects of isolated and integrated 'core stability' training on athletic performance measures: a systematic review. Sports Med. 2012;42(8):697-706. doi:10.2165/11633450-000000000-00000
Sharrock C, Cropper J, Mostad J, Johnson M, Malone T. A pilot study of core stability and athletic performance: is there a relationship?. Int J Sports Phys Ther. 2011;6(2):63-74.
Writer Bio
Marcus Scott has been writing on international politics, local news and culture since 2004. He has written articles, op-eds, columns and edited for student organization presses and blogs, including the Roosevelt Institution Defense and Diplomacy blog. In 2005 and 2006 Scott attended the Journalism Education Association national conferences. He earned his Bachelor of Arts in international relations from the University of California, Davis.