How to Get Ready for High School Soccer Tryouts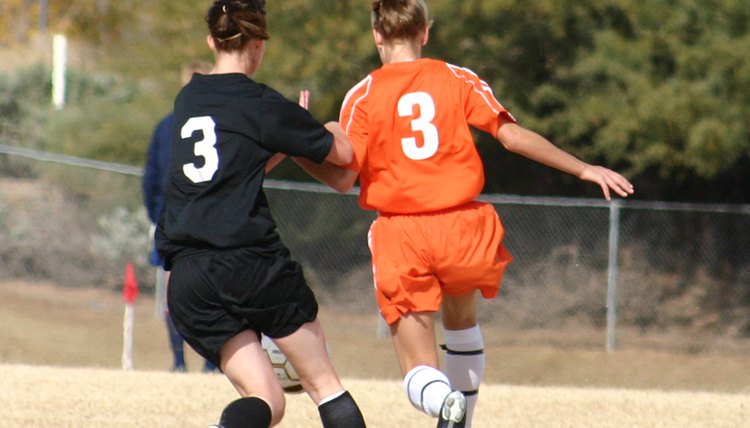 Trying out for the high school soccer team can represent a transition from playing soccer for fun to focusing on the competitive aspects of the game. High school soccer players must be more disciplined and mentally focused than their younger counterparts. Soccer tryout preparation should begin at least three months prior to tryouts themselves -- during the summer if you have fall tryouts. Through dedication, you can prepare yourself for the next level in soccer.
Speak to your high school coach the summer or semester before soccer tryouts. Many coaches have a yearlong conditioning program or suggestions for drills that can help you prepare for tryouts.
Practice soccer drills at least three times per week for between 15 and 30 minutes. This will help you hone your technique with the ball and get a better grasp on some of the fundamentals needed to succeed in high school soccer. Your session should include the following skills: dribbling with alternating feet, ball striking by hitting a ball against the wall, juggling the ball with alternating feet and kicking the ball as high as you can with control. Practice juggling the ball on different surfaces, such as a tennis court or in your basement. Practice working with the inside and outside of your feet.
Perform conditioning activities three times per week. You not only need a grasp of fundamentals to play high school soccer, you also need stamina and strength. Examples include jogging laps around the soccer field combined with strength-training activities like situps, pushups, lunges and squats.
Sprint train one to two times per week. Sprinting is a vital skill for high school soccer, which can be more fast-paced than soccer games for younger age groups. Start with eight sprints back and forth between the goal boxes, then increase your sprints to 10 to 12 repetitions. As you improve in stamina, you can incorporate dribbling the ball into your sprinting practice.
Attend any programs, clinics or workshops offered for your high school soccer team. Many coaches will offer a one-week clinic prior to tryouts that help you best understand the style of play, drills and skills that you will encounter during tryouts.
Tips
A positive attitude is an important component of playing high school soccer. Without it, a coach may be less willing to work with you. Show your positive attitude and teamwork with other players, and you will be more likely to make the team.
References
Writer Bio
Rachel Nall began writing in 2003. She is a former managing editor for custom health publications, including physician journals. She has written for The Associated Press and "Jezebel," "Charleston," "Chatter" and "Reach" magazines. Nall is currently pursuing her Bachelor of Science in Nursing at the University of Tennessee.