What Is the Most Common Size Mountain Bike?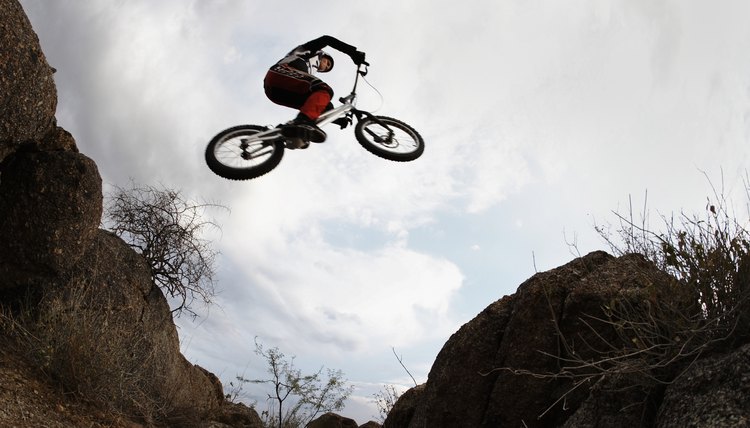 The most common size mountain bike is a 17.5-inch frame with 26-inch rims. But because retailers tend to offer a generic, or universal, frame, many riders are not getting the custom fit they need for the best possible riding experience. Mountain bikes come in a range of frame and wheel sizes, and finding the correct size mountain bike is not unlike selecting a proper pair of pants. Though a bike might seem like just a bike, finding a well-fitting one is essential not only for safety purposes but for comfort and performance as well.
Frame Size Options
The frame size of a bicycle refers to the distance between the center of the bottom bracket and the top of the frame where the seat post is inserted. Mountain frames typically come sized in inches and range from 13 to 23 inches or XS to XXL. Some lower end brands do not size their frames but rather use a universal frame size. For men's bikes this typically equates to a medium frame, or 17 to 18 inches. Women's universals tend to be a small or a 15-inch frame. Small to large frames are most common at retailers and bike shops; extra small or extra large and larger frames typically have to be custom ordered.
Fitting a Frame
Ideally a rider should stand several inches over the top tube of the bike. Proper fitting allows the rider to achieve maximum pedal performance while exerting less energy. A rider should have a slight bend in the knee at the bottom of the pedal rotation without kicking up too close to the handlebars at the top. Being able to straddle the top tube without hitting the crotch makes quick stops safer for the rider. Many sizing charts are available to help correlate the rider's height or inseam to a suitable frame. But these charts are guides, and the best way to find a well-fitting cycle is to try some out at a local bike shop or retailer.
Wheel Size
Traditionally mountain bikes come with 26-inch rims. A new trend on the rise is using larger rims, called 29ers. These bikes use a larger 700c rim like that on road or hybrid bicycle. A 700c rim is about 700 mm or 27.5 inches, making the name 29er a bit confusing. The name 29er is actually a reference to the size of the rim including the tire, which is significantly thicker on a mountain bike compared to that of road or hybrid bike.
29er vs. 26
With the rise in popularity of the 29er, arguments for both 26 and 29ers have flooded bike forums as to which size is better. In the end, which rim will suit the rider is based on types of riding and performance preferences. Cycles with 26-inch rims accelerate faster and maneuver better, especially around tight corners. They also are easier to find and tend to be more affordable. Because 29ers have more rotating mass, 26s are significantly lighter. But 29ers are better rolling over obstacles, taking rough terrain with ease. With a larger circumference on the rim, 29ers take more distance per rotation, making these bikes faster once they get rolling.
References
Writer Bio
Drew Menard currently works as a cycle technician and writer. He has experience in copy editing, layout design, coaching high-school basketball and holds a certification in personal fitness training. Menard received his bachelor's degree in journalism from Liberty University, where he won an award for column writing in a collegiate competition.