Outdoor Track Vs. Indoor Track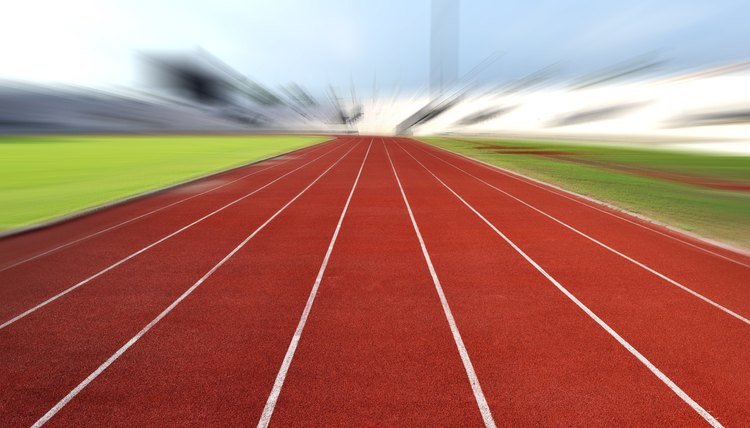 Most people think of the sport of Track and Field as one sport, but in reality Outdoor Track and Field and Indoor Track and Field have enough differences to be classified as two different sports. The obvious difference is that one takes place outside and the other takes place inside. However, there are more comparisons than just the location. Comparisons can be made concerning the season, track specifications, events, and weather conditions.
Season
In the United States, the indoor track and field season traditionally takes place during the winter months, December to March. This is a practical solution for most of the U.S. to escape from the cold temperatures outside. Indoor track is often thought of as preparatory to the outdoor season. Outdoor track and field takes place during the spring and summer months, March to July.
Track Specifications
An indoor track is typically 200 meters long whereas an outdoor track is 400 meters. According to USA Track and Field rules, an indoor track has to be completely enclosed. In some places an indoor track is longer than 200 meters. This is an advantage, so races run on these tracks are sometimes not recognized until a standard amount of time has been added. An indoor track can have a maximum of six lanes; an outdoor track typically has eight lanes. An indoor track is further unique because it can have banked turns. This banking is an advantage to a runner who competes on a flat track.
Events
There are many differences between the events competed in indoor track and outdoor track. These differences are mainly due to space constraints in an indoor facility. Outdoor competitors race 100 meters, whereas indoor they compete in 60-meter races. Indoor includes the weight throw, however this event is not contested outdoor. In the outdoor season there is the addition of the 4x100 meter relay, 10,000 meter run, 400 meter hurdle race, javelin throw, hammer throw, discus and the 3,000 meter steeplechase.
Weather Conditions
There is an obvious difference in weather conditions between the two sports. An indoor track has a controlled climate. Meet organizers can set the lighting, heating and ventilation to provide satisfactory conditions. Weather conditions of an outdoor track are not controlled, thereby creating another element the athlete must deal with.
Expert Insight
Each sport poses its advantages and disadvantages in posting marks and times. Many athletes will get caught up and frustrated in the fact that their marks or times are worse in one sport than in the other. It is important not to expect that you will compete consistently indoor and outdoor.
References
Writer Bio
Rebecca Bush is a health and fitness writer. She is a certified strength and conditioning specialist through the National Strength and Conditioning Association. She holds a Bachelor of Science in exercise science and excels in writing and public speaking.