Track Spike Rules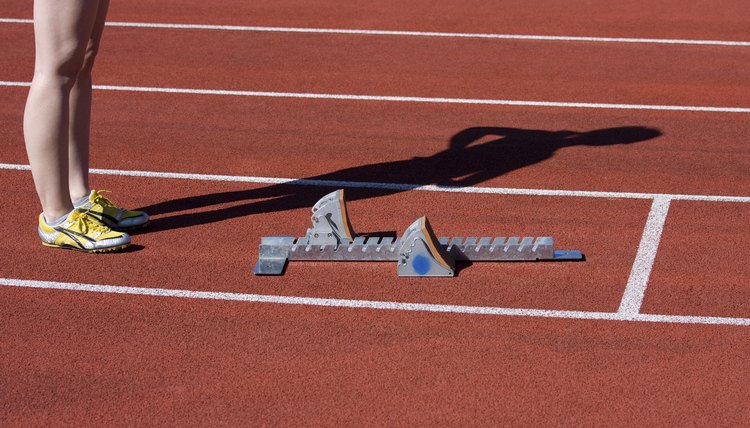 Wearing spikes gives you a better grip on the track, an important advantage in a race. But not just any spikes will do. To ensure the safety of runners and to maintain a level playing field, the bodies governing track events place limits on the spikes that you can use in track competitions.
Number of Spikes
According to the International Association of Athletics Federations (IAAF), the body governing track and field globally, a track shoe can have up to 11 spikes. This is the same rule used by U.S.A. Track and Field (USATF), which oversees track and field competitions in the United States. Both the IAAF and USATF specify that any number of spikes can be used so long as they don't exceed 11, so you can use fewer spikes if you prefer.
Length
IAAF rules specify that spikes cannot exceed 9 mm in length for track events. USATF applies this limit to races on synthetic tracks. USATF allows longer spikes, up to 25 mm in length, to be used on non-synthetic surfaces. On indoor tracks, USATF and the IAAF both limit the length of spikes to 6 mm. USATF rules also allow event organizers to apply their own limits to the length of spikes, so be sure to check with event organizers if you're running a USATF-sanctioned event.
Width
USATF and the IAAF share the same limit on the width of spikes. According to the rules used by both organizations, the spikes must be able to fit through a square-sided, 4-mm gauge up to at least half the length of the spike, on the end closest to the tip. This regulation applies to all track competitions, indoors and out and on synthetic or non-synthetic tracks.
Enforcement
In international events sanctioned by the IAAF, the call room judges are responsible for, among other things, checking that runners' spikes comply with the regulations. In events sanctioned by the USATF, it is the responsibility of the clerk or course and his assistants to verify that competitors spikes meet the standards. Failure to comply with the regulations or failing to obey race officials is grounds for disqualification under USATF and IAAF rules.
References
Writer Bio
A. McDougall is an editor, writer and athlete. McDougall is a marathon coach certified by the North American Academy for Sport Fitness Professionals and an American College of Sports Medicine certified personal trainer. McDougall has edited and written for several national magazines.