Beginning Gymnastics Routines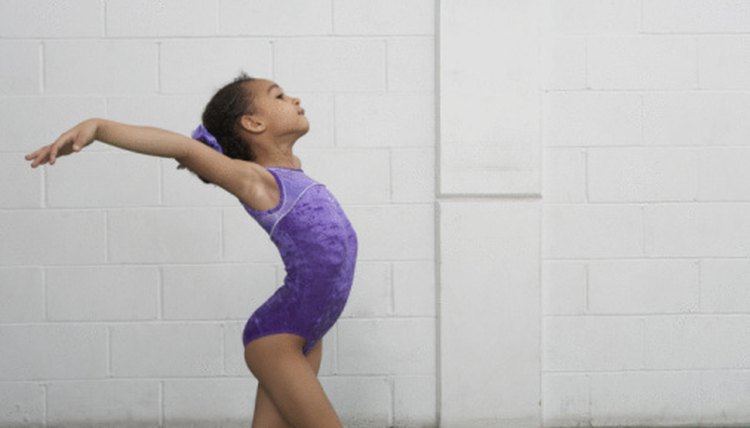 New gymnasts learn basic skills while working from Level 1 to Level 3. From Level 4 on up, they are mastering competitive routines. Both boys and girls learn beginning routines for the floor and vault. Girls learn the balance beam and the uneven bars, while boys move up to learn routines on the parallel bars and high bar. As boys get stronger, they can also learn routines for the pommel horse and rings.
Floor Routine
After becoming proficient in the basic tumbling drills, the beginning gymnast should be ready to build a basic floor routine. "In the floor exercise, they can do forward rolls, backward rolls, maybe a cartwheel," Jaye Bahleda, a coach at Gymnastic Training Center in Rochester Hills, Michigan, told Play Sports TV. At Level 4, the first level of competition, routines include splits, a split leap, a backbend, a roundoff and a back handspring.
Vault
To build toward vault routines, beginning gymnasts must become accustomed to "jumping off a springboard onto an 8-inch mat," Bahleda says. At Level 4, gymnasts must execute the beginning of a front handspring onto the table. "The competitive vault is actually a handstand back-fall onto a stack of mats," says Gymnastics iSport.
Balance Beam
A beginning balance beam routine might include a jump to front support mount, a tuck sit, a roll to candlestick hold, rise to the Arabesque position, a couple of coupe walks, a stretch jump, pivot turn and a stretch jump dismount. At Level 4, the routine could include a 90-degree split leap, a three-quarters handstand, a tuck jump, a leg swing mount, an Arabesque and a side handstand dismount.
Uneven Bars
A beginning uneven bars routine might include a back hip pullover, a cast, a back hip circle, another cast and a pushaway dismount. In Level 4 competition, the routine should include a glide swing, a pullover, a front hip circle, a mill circle, a cut back, a cast, a back hip circle and an undershoot dismount.
Pommel Horse and Mushroom
At Level 3, boys are building their strength on the mushroom apparatus. They can start with quarter-circle jumps or single circles and move up to half-circle with a quarter-turn at Level 4. On the more challenging pommel horse, boys start with straddle swings and single leg cuts at Level 3 and move up to stride swings and multiple leg cuts at Level 4.
Parallel Bars and High Bar
At Level 3 in the parallel bars, boys may jump to front support, swing, swing-to-straddle sit, lift legs to L-hold and do a backswing dismount. At Level 4, they may add a straddle leg to travel. They may press off the bar into L-hold, swing and do a handstand dismount. At Level 3 of the high bar, they may hang, do a pullover to front support, do a cast back hip circle, undershoot and finish with a backswing dismount. At Level 4, they may do straight-arm hang, a pullover to front support and a cast back hip circle. They may undershoot, swing with regrip, swing with a half-turn to mixed grip, swing in mixed grip and finish with backswing dismount.
Rings
At Level 3, boys are still developing the necessary upper-body strength for this event. They may hang, pull to an L, swing to inverted hang, swing back and then up into piked invert and drop off to dismount. At Level 4, they may do a straight hang and a chinup hold. They may straighten arms and L-hold, swing to invert, pike and drop to their landing.
References
Writer Bio
Jeff Gordon has been reporting and writing since 1977. His most recent work has appeared on websites such as eHow, GolfLink, Ask Men, Open Sports, Fox Sports and MSN. He has previously written for publications such as "The Sporting News" and "The Hockey News." He graduated from the University of Missouri-Columbia School of Journalism in 1979 with a bachelor's degree.