A Good Vertical for High School Football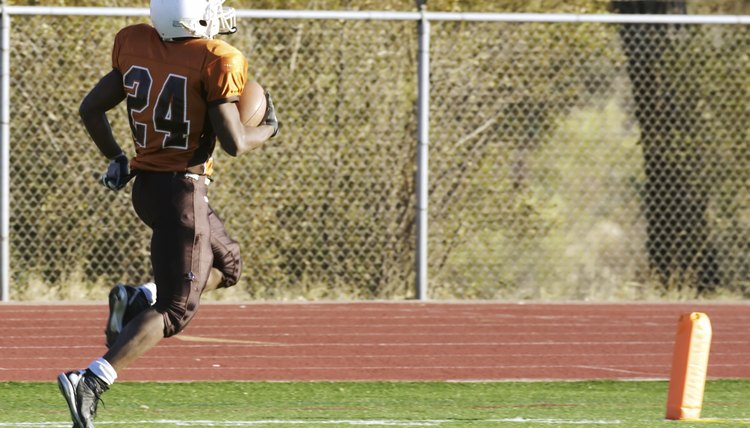 The all-time top score for the vertical jump test at the NFL combine, as of 2011, came from Gerald Sensabaugh, former NFL athlete, who 46 inches. While this jump marks the best from a football player, a range below this is still considered good. That "good" range varies for high school athletes, according to your position and overall athletic ability.
Jump Range
A general range of vertical jumps for high school athletes is about 26 to 28 inches. Elite high school football players, however, will have a vertical exceeding 30 inches, with college recruits reaching 36 or more inches. This wide range of good verticals depends on position and overall athletic ability. Linemen typically have a lower vertical than, for example, skill position players.
Vertical Jump Test
Similar to strength tests and the 40-yard sprint, high school football players routinely perform a vertical jump test. The test helps to identify jumping ability along with strength and power. To perform a vertical jump test, you need a tape measure and a marking device such as chalk. Measure the standing reach with your arm extending up and then measure the difference between the reach and the highest point reached while jumping. Specific pieces of testing equipment automatically mark and calculate vertical jumps.
Performance Predictor
The vertical is important if you're a high school football player because it displays lower body strength, power and overall athleticism. As a result, coaches use your vertical jump as a tool for predicting functional performance and level of play. For example, the coaches may use your vertical jump test results to decide if you will make the varsity, junior varsity or freshman football teams.
Training Techniques
You can improve your vertical through specific training. Incorporate various plyometrics and jump training exercises into a general strength and conditioning program. Sample exercises include box jumps, depth jumps, jump rope and squat jumps. Perform one to two different jump training exercises for one to three workouts per week for about six to 12 weeks to see improvements in jumping.
References
Writer Bio
Based in Nebraska, Jeremy Hoefs began writing fitness, nutrition, outdoor and hunting articles in 2006. His articles have been published in "Star City Sports," "Hunting Fitness Magazine" and RutWear field journals, as well as on the Western Whitetail website. Hoefs graduated with a Bachelor of Science in exercise science from Nebraska Wesleyan University.