How to Get on a High School Football Team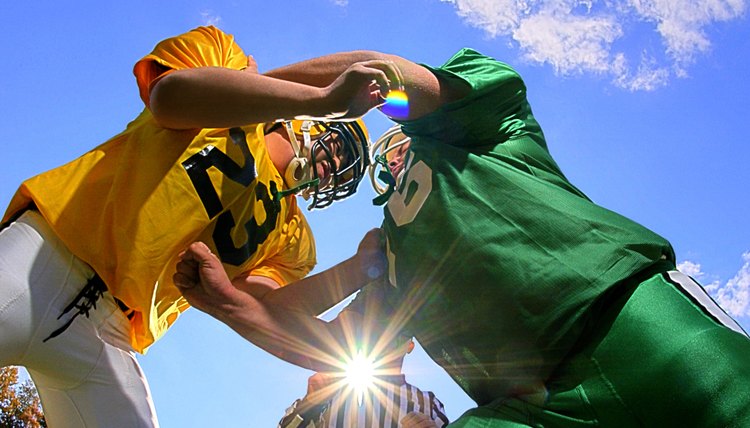 Making the high school football team isn't an easy thing to do but if you're committed and willing to put in the effort, there's always a chance you'll make the roster. Working hard in school and on the field as well as sacrificing some of your own personal time will get you headed in the right direction to making your high school football team.
Start Early
If your goal is to play high school football, you need to start early. Begin playing football as early as possible. Pee wee football is a good place to start, then simply transition to different teams as you move up in school. If you're already beyond your pee wee years, then get into a junior high program or whatever else is available to you. The more experience you have prior to trying out for high school football, the better chance you'll have of making the team.
Train on Your Own Time
Football season only lasts a few months, it would be to your benefit to use the rest of the year to train on your own. Maintain your fitness and work toward strength gains throughout the year. Recruit a friend or potential teammate to run drills with you. Sign up for a couple of football camps throughout the summer; many universities and high schools offer camps that give you the opportunity to work with coaches and current players to work on game fundamentals and improve your game.
Give it a Try
Try out for the team. Show up early, be prepared and give tryouts your all. Follow your routine the morning of tryouts; don't change up your habits by eating something different for breakfast or getting more or less sleep than usual. The last thing you want is to end up with an upset stomach or brain fog during tryouts.
Hit the Books
Being a high school football player is more than simply being an athlete; always remember you're a student first. You can be the best player on the team but if you can't pass algebra, you won't be padding up. Take your studies seriously and stay on top of your school work. Coaches know that players who work hard in the classroom will work hard on the field too.
References
Writer Bio
Jen Weir writes for several websites, specializing in the health and fitness field. She holds a Bachelor of Science in exercise science from Montana State University, is an NSCA-certified strength and conditioning specialist and maintains a personal trainer certification from the American College of Sports Medicine.