The History of Competitive Swimwear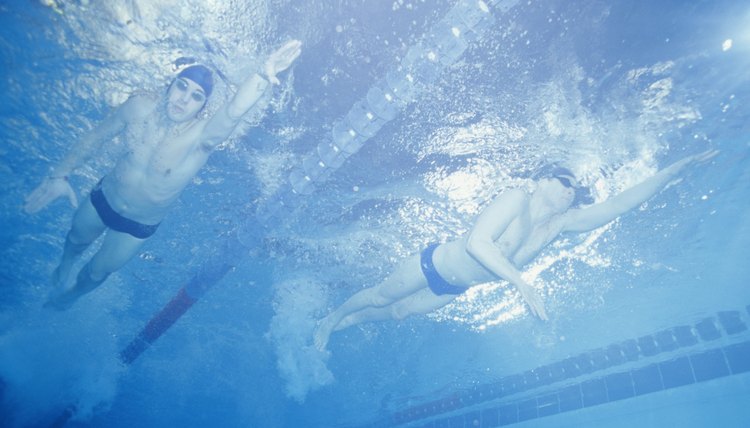 Jantzen Knitting Mills made the leap from manufacturing sweaters and woolen hosiery to bathing suits in 1913, after a member of the Portland Rowing Club requested a pair of rowing trunks. The athlete asked that the trunks be made with the same rib stitch as the cuff of a sweater, thinking this stitch would result in a snug, comfortable pair of shorts that would not need a drawstring. According to the Oregon History Project, the material worked so well that other rowing teams requested the trunks. Eventually, the company received an order for a man's bathing suit.
First Swimsuit
Jantzen made the first bathing suit entirely of wool, and decency standards of the time dictated that the suit covered a man's chest and upper arms. Competition was all but impossible in this swimwear, because the heavy wool Jantzen suits weighed about nine pounds. These suits fit poorly, encumbering the athlete rather than facilitating his movement through water.
Speedo
Speedo branched out from manufacturing underwear to swimwear in 1914, according to Swim Suit Style. Speedo introduced the Racerback, the first swimsuit designed to give racers more flexibility and speed in the water. Swedish swimmer Arne Borg set a 1929 swimming record while wearing a Speedo. The brand enjoyed popularity among American competitors in the early part of the 20th century, and gained international attention during the 1956 Melbourne Olympic Games. About 90 percent of Olympic swimmers now wear Speedos, including Michael Phelps and Inge de Bruijn.
Materials
Manufacturers of competitive swimwear have faced special challenges unimportant to makers of recreational suits. Competitive swimwear must be lightweight, fit properly and provide little resistance in the water. Jantzen added an elastic stitch to their bathing suit line, and had production lines in operation early in the 1920s. This newly developed bathing suit had almost twice the elasticity of jersey material and fit the athlete more snugly. Scientists from Dunlop introduced Lastex in the 1930s, weaving synthetic rubber strands into fabric to make it fit better.
Modern Swimwear
Olympic swimmer Johnny Weismuller teamed with B.V.D. to introduce topless swimwear for men in the 1930s. While manufacturers aimed their topless marketing strategies toward recreational swimmers, competitive swimwear vacillates between wearing full-body swimwear and wearing almost nothing at all in an effort to reduce the resistance caused by skin friction in the water. Manufacturers of competitive swimwear look to nature for clues in reducing skin friction and increasing an athlete's speed as he moves through water. Speedo introduced Fastskin, based on sharkskin design, in 2000. Athletes wearing Fastskin suits broke 13 of 15 swimming records during the Sydney Olympic Games that year. All 47 medal winning swimmers wore these suits at the Olympic Games in 2004, including Michael Phelps.
Resources
Writer Bio
Lynn Hetzler has been a writer since 2000. She was editor in chief and head writer for the online publication Eye on Cameraware. She owns a computer store offering repair, websites, instruction, and more. Hetzler is a certified medical assistant with experience in oncology, laboratory testing and protocol writing.