Are Dance Leotards the Same as Gymnastics Leotards?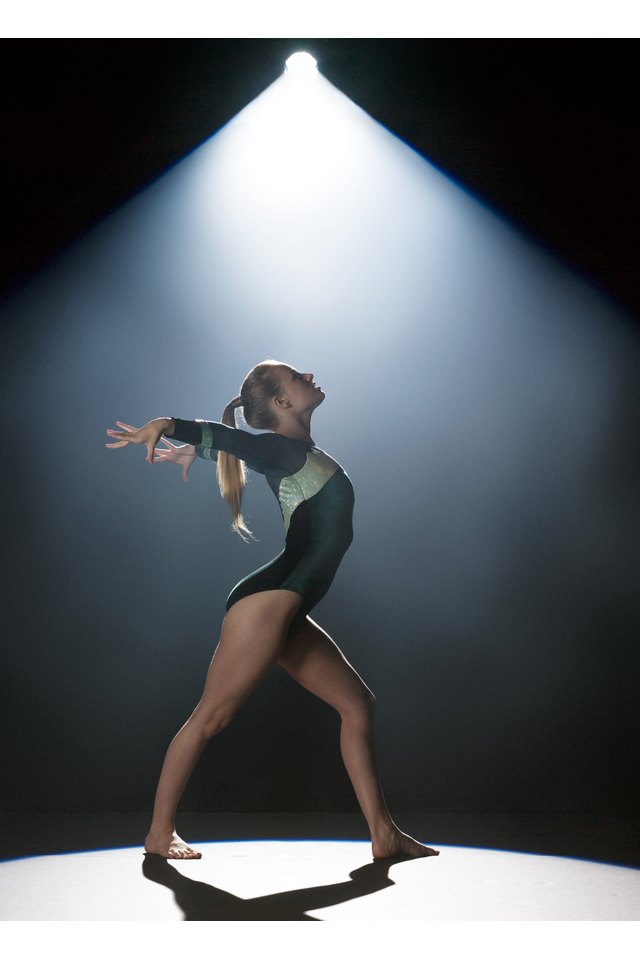 In a pinch, you can use the same leotard for gymnastics and dance, but it will largely depend on your teacher. "For my personal classes I would let a student wear a gymnastics leotard," Kathe Carande, a dance instructor at The Art Underground in Louisville, Colorado, said. "The main thing is you want to see how their body moves." Some dance schools and gymnastics gyms, however, have different rules. While you may be able to interchange the leotards for class, you won't be able to get away with it for a performance or competition.
Dance Styles
Dance leotards are all about variety, from halter tops to short sleeves. But, according to Carande, camisole or tank top straps are the most popular. Leotards for dance can also have cutouts in the back, lace overlay or low necklines. Because of all the options, some studios have dress codes to simplify shopping. "The dress code prevents students from focusing on their clothes and more on their dancing," said Amanda Fedor, Director of The Studio, Inc. in St. Louis, Missouri, said.
Gymnastics styles
Gymnastics leotards, on the other hand, come in two styles -- tank top or long sleeve. The tank top straps are 2 to 3 inches wide and the neckline on gymnastics leotards is near the collarbone. Because of the rigorous nature of tumbling, gymnastics leotards need to have wider straps to stay up. Long sleeves may also help protect your skin from a fall off an apparatus. Sometimes, children's versions have attached shorts called a biketard.
Patterns
The fastest way to tell if you're looking at a gymnastics or dance leotard is the presence of a pattern. Gymnastics leotards have them, and they're often sparkly and multicolored. "Dance leotards tend to be mostly solid colors, and in my opinion (are) more understated," Fedor said. Carande said dance leotards may have a colored stripe or strap, but won't have colored shapes or designs. For ballet, dancers may wear patterned skirts over the leotards so the solid color matches multiple skirts. Both disciplines use fancier and more eye-catching leotard patterns for performances or competitions than they do for practices.
Materials
According to Carande, dance leotards are commonly made from a blend of materials like cotton, polyester, nylon or spandex. Fedor, however, says lycra or lycra-cotton blends are what she sees most in 2013. If they don't need as much stretch, leotards can also just be cotton. "Cotton polyester blends are usually the cheapest," Carande said. Gymnastics leotards can be made from the same fibers as dance leotards, but they typically have a higher percentage of spandex. That's because a back handspring demands more stretch in the fabric than a simple backbend in dance.
For Men
Leotards and male dancers usually don't get along. "I've never worn a leotard and have never known a male dance to wear one," said Jonathan Stewart, a performer at the Arvada Center for the Arts in Colorado. Men typically favor tank tops, sweatpants and shorts for dance classes. Ballet dancers will commonly wear tights and a dance-style T-shirt for class. In performance, they may need to wear a plain leotard under the costume, but it won't be the main focal point. Male gymnasts, however, do wear leotards. They're usually called "competition shirts" even though they extend under the legs.
References
Amanda Fedor; Director of The Studio, Inc.; Saint Louis, Missouri; Contact: 314-968-4881
Kathe Carande; Dance Instructor at The Art Underground; Louisville, Colo.; Contact: 303-817-2234
Johnny Stewart; Performer at the Arvada Center for the Arts; Arvada, Colorado; Contact: 719-406-7660
Writer Bio
Kelly MacGregor holds bachelor's degrees in news-editorial journalism and ecology/evolutionary biology from the University of Colorado at Boulder. In addition to writing for the "Colorado Engineer Magazine," the "Boulder Daily Camera" and EdNews Parent, MacGregor's work has been picked up by the "Colorado Daily," EdNews Colorado and the "Denver Post."