What Is a Gym Whirlpool?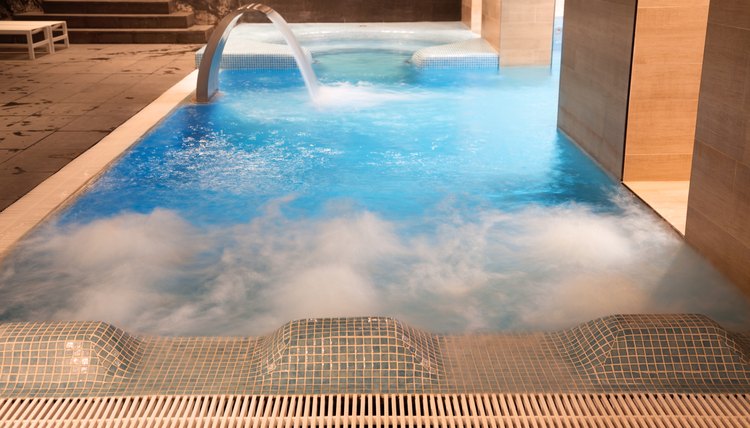 Some gyms, especially larger, more commercially-oriented ones -- or specialty gyms that have a spa emphasis -- include a whirlpool as part of the services offered to members. Located near the changing rooms, there may be separate whirlpools for men and women, often paired with a sauna. Also called a hot tub, a whirlpool has jets of pressurized water in a tub filled with hot water, and can be used to relax and restore sore muscles after your workout.
Using It and Its Benefits
The whirlpool is not just an indulgence, it is often included in gyms as a therapeutic treatment as the heat and water jets release tension from and knead sore muscles. As a relaxant, the whirlpool can also be a way for you to reset your mental state before you head out of the gym. In some cases, using the whirlpool may be required as part of a structured workout program, especially those that are high-intensity or are for people recovering from injuries or illnesses. Each gym has different access times and rules for the whirlpool so speak with the gym staff to find out the specifics.
Etiquette
As a shared space, the whirlpool requires you to abide by certain rules to maintain hygiene and a basic comfort level for all people. All gyms will require you wear a swimsuit to use the whirlpool. As well, showering before you use the whirlpool is necessary to keep the tub contaminant and dirt free. Not showering can increase the spread of bacteria. Spending more than 10 minutes in the whirlpool can cause overheating and dehydration, so limit your hot tub use to the recommended time. If there are many people waiting to use the hot tub, be respectful of other people's needs and do not over extend your stay in the tub.
Using It For Exercise
Some gyms have whirlpools designated especially for exercise. These whirlpools are often much larger and are rectangular shaped. With water jets on only one side or end of the pool, exercise whirlpools can recreate a "swimming" experience without actually needing you to travel any distance -- the jets "push" you back as you "swim" forward. In an exercise whirlpool it is important to keep your water temperature under 88 degrees Fahrenheit, as you could easily overheat. Exercise whirlpools are also good for those who need to protect their joints during a workout, or are undergoing physical therapy.
Cautionary Advice
Authors of "Core Performance," Mark Verstegen and Pete Williams caution against jumping into the whirlpool straight after a workout. Exercising increases your body's blood flow, slightly inflaming your limbs and muscles, a state that will end naturally once your body has cooled down. Jumping into the whirlpool without a proper cool down can increase your body's muscle inflammation. While Verstegen and Williams recommend an hour between your workout and your whirlpool use, your schedule may not allow for this. At the very least, conduct a full cool-down period and maybe a cooling shower before using the whirlpool.
References
Writer Bio
Lana Billings-Smith has been writing professionally since 1997. She has been published in the "Montreal Gazette" and the "National Post." She also teaches and lectures at McGill University. A certified personal trainer, she holds a Bachelor of Arts with a specialization in leisure sciences and a minor in therapeutic recreation.