Swimming With Dolphins in Naples, Florida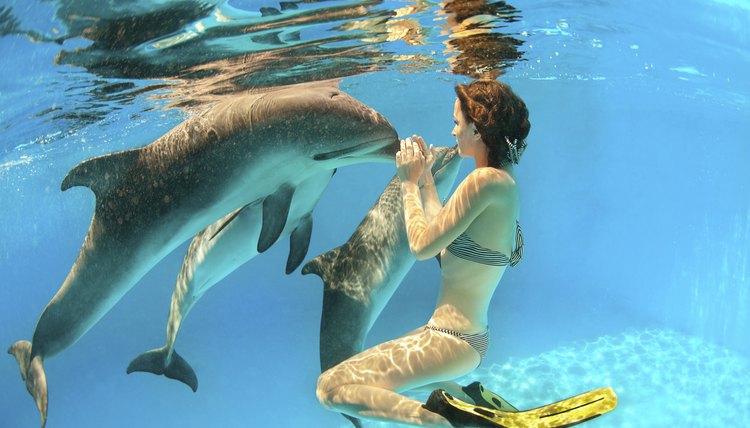 Advocates of Dolphin Assisted Therapy claim that encounters with dolphins help strengthen immune systems, increase a person's motor skills and increase learning. Dolphins are naturally affectionate toward humans and are especially protective of those with physical disabilities. Whether you desire a dolphin swim for recreational or healing purposes, you can easily accomplish this with a visit to Naples, Florida.
Transportation
Transportation service to dolphin swim areas is available from any residence or hotel room in Naples. Professional drivers are familiar with road conditions and local streets and can transport your family safely to your destination. This will help alleviate the stress of getting lost or having a mechanical breakdown, so guests are free to relax and focus on connecting with the dolphins.
Shallow-water Experience
A shallow-water experience is recommended for first-time dolphin swimmers and children. This activity allows a group of eight to 10 people to experience dolphins up close in water that is approximately waist deep. Guests can touch and pet the dolphins and view and assist with training. Dolphins may even give you a kiss.
Deep-water Experience
A deep-water experience is recommended for strong swimmers. After wading into shallow water and spending a few minutes getting acquainted with a dolphin, you will venture into deeper water where you will ride on the dolphin's dorsal fin from one pool to another.
Reservations
Dolphin swim slots are limited so that each visitor can be assured quality time with the dolphins and to limit stress on the animal. Vacationers to Naples, Florida, who would like to schedule a dolphin swim should make reservations at least six months in advance. In the event that a time is not available, you may be placed on a waiting list for the day and time you have requested.
Packages
Dolphin swim packages may be half-day or full-day adventures. Half-day adventures include a dolphin swim, marine animal shows and a complimentary snack. Full-day adventures may include dolphin swims, marine animal shows, land animal shows, airboat rides and reptile viewing. Round-trip transportation is included for both programs.
Restrictions
All swimmers must be at least 5 years old for shallow-water experiences. Participants that are between 5 and 9 years old must be accompanied by a paid swimmer who is at least 10 years old. Guests must be at least 52 inches tall and at least 18 years old for a deep-water encounter.
Seasons
Dolphin swims are very popular during spring break season and the week between Christmas and New Year's, so rates may be slightly higher during these times. The summer seasons begins around mid-April and runs through Labor Day. The off-season is considered to be Labor Day through Christmas and from New Year's through late March.
Writer Bio
Misty Amber Brighton has been writing for over 10 years. Her writing has appeared on various websites. She is a veteran of the United States Armed Forces and attends South University.