Why Is There a Dirt Strip Between Home Plate & the Pitcher's Mound?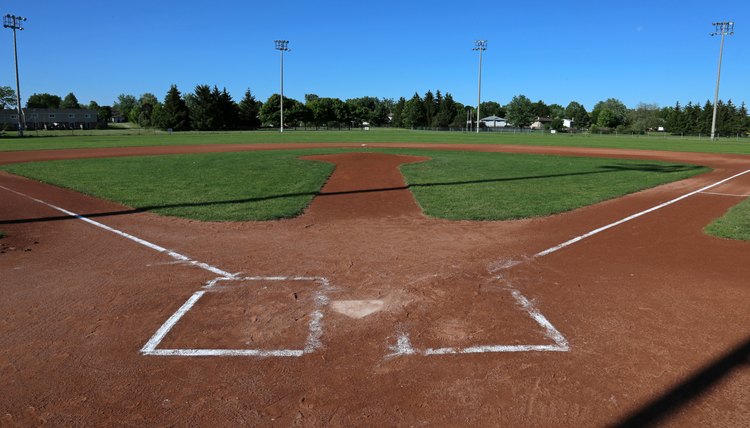 These are the days of lush green grass on baseball fields, but some ballparks still have a dirt strip between the pitcher's mound and home plate. There are reasons for the "keyhole," which is the shape created when you connect the strip of dirt with the mound and the batter's box, and there are many theories as to why the dirt strip is no longer popular.
Old School Keyhole
Before Major League Baseball expanded in the 1960s and began to construct steel and concrete stadiums shortly thereafter, most ballparks featured a dirt strip between home plate and the pitcher's mound. Hoping to tap into the nostalgia, Detroit and Arizona brought back the "keyhole" when new Major League Baseball stadiums started popping up with regularity in the 1990s. Many baseball fans were tired of the concrete bowls, so vintage looks were all the rage, from Baltimore's Oriole Park at Camden Yards to Seattle's Safeco Field. In Detroit and Arizona, the Tigers and Diamondbacks took it a step further by adding dirt strips between home plate and the pitcher's mound in their new ballparks.
Visual Path for Umpires
Old-time umpires didn't have the luxury of the training or equipment available today. In theory, by having a strip of dirt leading from the mound to home plate, it was easier for umpires to follow the path of the baseball over a darker surface. This made determining whether a pitch was a strike or a ball an easier task. Today's umpires spend years in the minor leagues honing their craft, and they also have the benefit of studying a computerized video system that measures balls and strikes. So, in theory, the dirt strip is no longer relevant.
Less Yardwork
Advanced technology also comes into play when trying to understand why Chase Field in Phoenix and Comerica Park in Detroit are the only Major League stadiums that have a strip of dirt between the pitcher's mound and home plate. Groundskeepers operate high-powered lawnmowers and rollers and are judged by how good the grass looks. Major League teams also have more money to spend on the playing field. That wasn't always the case, and the space between the pitcher's mound and home plate is a high traffic area. Rather than having the grass trampled down by frequent visits to the mound from the catcher, manager and pitching coach, dirt was utilized.
Copying Cricket
Roughly 300 years before Abner Doubleday was widely credited with inventing baseball, the sport of cricket was up and running in England. Cricket is strikingly similar to baseball. In cricket, there is a "batsman," similar to a "hitter," and there is a "bowler," similar to a "pitcher." There also is a strip of dirt between the batsman and bowler in cricket, leaving little doubt that the dirt strip was picked up from cricket when baseball gained popularity.
References
Writer Bio
Scott Amato has been a sportswriter for a major Midwestern daily newspaper since 1985. He has covered professional baseball, football and hockey. In addition, Amato has contributed to sports publications throughout the United States and Japan. He has a Bachelor of Science in journalism from Ohio University.