How Did Babe Ruth Change Baseball?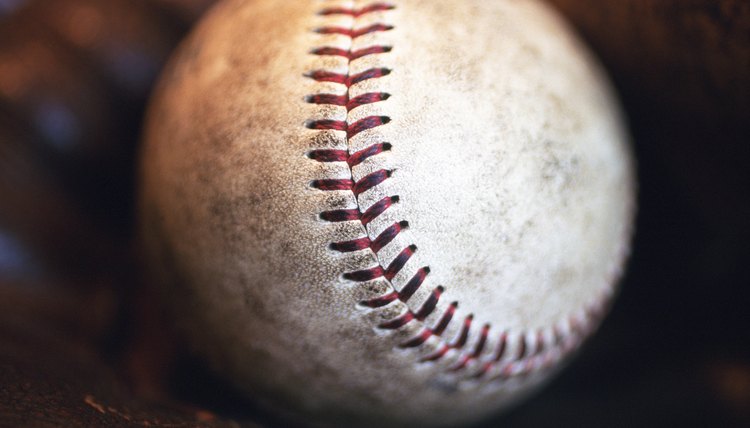 Babe Ruth had a lasting impact on major league baseball. He dominated the majors in home runs, a record few have since surpassed. He was the first player to hit 60 home runs in a season and ended his career with 714 home runs. Ruth also pitched in 163 games, with a record of 94-46. The Smithsonian states that Ruth is the greatest player in baseball history, having glamorized the sport with each record he set. Ruth, who made the game livelier, improved the radio fan's listening experience.
Early Years
George Herman Ruth was born Feb. 6, 1895 in Baltimore. As a boy, Ruth often got in trouble, so was sent by his parents to St. Mary's Industrial School. Ruth comfortably played many positions on the school baseball team. He pitched, was the team's catcher and played the infield and outfield as well. When 18 and still at the school, Ruth pitched for local semi-pro and amateur teams.
Professional Debut
In 1914, Ruth was signed to the Baltimore Orioles minor league club and quickly demonstrated his abilities as a pitcher. In summer 1914, the Baltimore organization sold Ruth to the Boston Red Sox. On July 11, 1914, Ruth debuted at Fenway Park as a pitcher and recorded his first win. In his next outing as pitcher, Ruth was hit hard and was sent back to the minor leagues, after time spent on the bench. Boston called him up to the majors again for the last week of the 1914 season. The Red Sox won the World Series in 1916 and 1918 in part due to Ruth's pitching.
New York Yankees
In 1918, needing to raise cash, the Red Sox owner sold Ruth to the New York Yankees for $100,000. The Yankees, a team that previously had never won a title, achieved greatness thanks to Ruth. With him, the team took seven American League pennants and won four World Series. In 1923, the Yankees moved to a new stadium, which was unofficially called "the House that Ruth Built." Ruth's 1927 Yankees are considered by some to be the greatest team in baseball history.
Home Run Hitter
Ruth dominated at home plate. Ruth popularized the home run. He was the first player to reach season homer totals of 30, 40, 50 and 60. Ruth's nickname, the "Sultan of Swat," refers to his batting prowess. Ruth's power hitting changed baseball from a pitcher-dominated, scratch-out-a-run game to a homer-hitting contest. From 1926 to 1931, when some considered him past his prime, Ruth still averaged 50 home runs.
References
Writer Bio
Gina Knutson began her freelance writing career in 2010. For several years, she worked as home editor/editorial assistant at "Prairie Farmer" magazine and served as a newsletter editor for several not-for-profit groups. Knutson graduated from Elmhurst College with a Bachelor of Arts in English.