What Is an OTA in Football?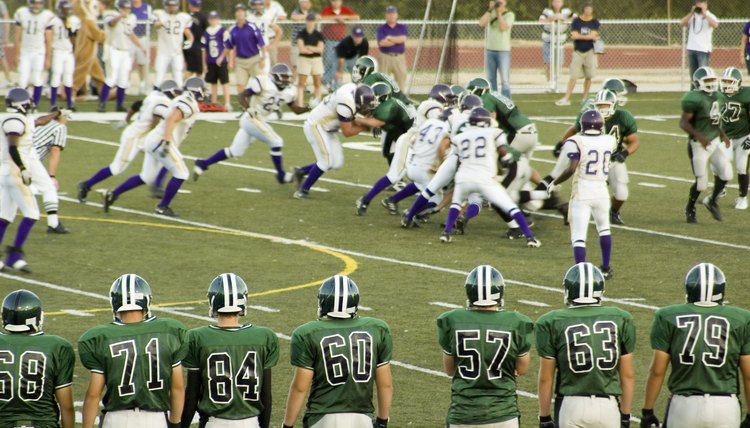 Football fans hear the term OTA frequently in the off-season, particularly in the context of whether players are attending OTAs or not and what that might mean for the coming season. But an OTA is not a single event, it is an umbrella term that means "organized team activity." OTAs generally refer to practices and team meetings in the off-season, but they can mean any number of team events, such as morale-building boot camps and bowling excursions.
OTA Schedules
NFL teams actually publish the dates of their scheduled OTA practices, which are usually held in May and June and include veterans, recently drafted players out of college and athletes invited as un-drafted free agents. Fans can arrange to get tickets, usually available in small numbers, through the individual team's website or box office.
OTA Purpose
OTAs are seen as ways to introduce new players on the team to the squad's offensive and defensive schemes, as well as for new offensive or defensive coordinators to introduce new schemes to all the players. OTA practices and meetings give players a small sampling of what they'll see in training camp and have to learn for the regular season.
Contract Strategy
When a disgruntled player wants to renegotiate his contract or wants out of his contract period, he sometimes sends a less-than-subtle sign by not attending an OTA. While attending OTAs is not mandatory according to the terms of the collective bargaining agreement between the NFL and players' union, teams, fans and even some players tend to look down upon other players who fail to attend an OTA.
OTA Schedule
OTAs are scattered throughout the spring and there are guarantees who will attend. With that in mind, coaches tend to want to pack a little of everything into an OTA. A typical OTA day will start with a team meeting or a meeting between players and position coaches. That's followed by some special teams practice and then individual drills with your position group. Later in the day, teams may through seven-on-seven drills, no-huddle practices and 11-on-11 practices.
References
Writer Bio
James Roland started writing professionally in 1987. A former reporter and editor with the "Sarasota Herald-Tribune," he currently oversees such publications as the "Cleveland Clinic Heart Advisor" and UCLA's "Healthy Years." Roland earned his Bachelor of Science in journalism from the University of Oregon.