The Best Times for Crossfit Workouts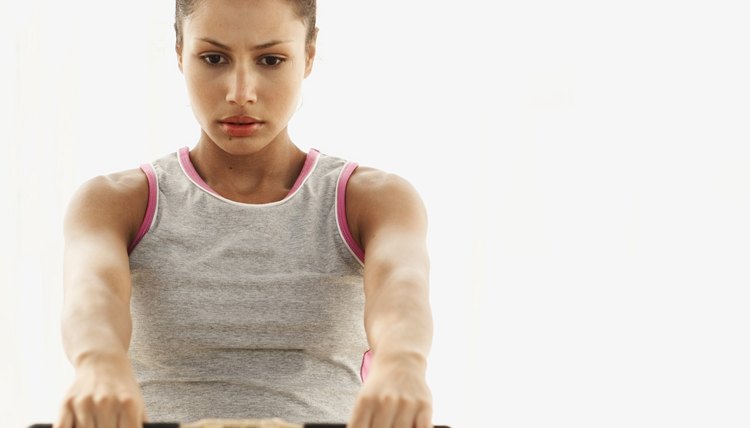 CrossFit workouts are constantly varied, functional movements executed at high intensity. This workout program has been adopted by elite athletes, military personnel and emergency response personnel from around the world. By designing the workouts with a broad, general and inclusive point of view, the list of CrossFit workouts is nearly endless in possibilities.
WOD
CrossFit workouts are also called the WOD for "workout of the day." CrossFit gyms post a new WOD for every day. Each workout is scored with a specific technique, including rounds completed, time or weight lifted. Benchmark workouts are the most common workouts used to determine best times, and include named WODs such as the "Girls" or "Heroes." These benchmark workouts make the best times for CrossFit workouts universal among every CrossFit gym around the world.
Personal Records
Every CrossFit athlete has a personal record, or best time, for most CrossFit workouts. The personal records commonly focus on the benchmark workouts and are used to track and measure overall performance and improvements. As a result, CrossFit athletes try to set personal records for specific workouts by setting the best times. For example, your previous personal record might be 18 rounds of "Cindy" but, then you try to get a best time, or personal record, by breaking 20 rounds on your next attempt.
Games Athletes
CrossFit athletes in the CrossFit Games are competing to be crowned "Fittest man, and woman, on Earth." As a result, these CrossFitters typically hold the all-time best times for most CrossFit workouts. For example, Joshua Bridges from La Mesa, California, has a "Fran" time of 2:04, while there are numerous other Games competitors around 2:10 to 2:20. Similarly, Rob Orlando from Monroe, Connecticut, has a deadlift of 593 lbs. with other top CrossFitters turning in a deadlift around 550 lbs.
Tracking Workouts
CrossFit athletes use various resources to record and track their workout history. The resources include an online workout log or daily WOD planner. The online workout logs allow you to compare your best times with other top athletes from around the world. Any logging resource tracks your workouts and any workout specifics for future reference.
References
Bailey B, Bruner M. "Investigating the Organizational Culture of CrossFit." Journal of Exercise, Movement, and Sport. Vol 47 No 1. 2015. 
Brisebois M, Biggerstaff K, Nichols D. "Aerobic Energy Expenditure Comparisons Between One Traditional and CrossFit-Based Exercise Session." International Journal of Exercise Science: Conference Proceedings..  . Vol 2 Iss 8 Article 37. 2016. 
Gerhart DH, Pasternostro Bayles M. "A Comparison of CrossFit Training to Traditional Anaerobic Resistance Training in Terms of Selected Fitness Domains Representative of Overall Athletic Performance." International Journal of Exercise Science: Conference Proceedings.  Vol 9 Iss 2 Article 26. 2014. 
Smith M, Sommer A, Starkoff B, Devor S. "CrossFit-Based High-Intensity Power Training Improves Maximal Aerobic Fitness and Body Composition." Journal of Strength & Conditioning Research.  . Vol 27 Iss 11 p 3159-3172. November 2013. 
Weisenthall B, Beck C, Maloney M, DeHaven K, Giordano B. "Injury Rate and Patterns Among CrossFit Athletes. Orthopaedic Journal of Sports Medicine.  . Vol 2 No 4. April 2014. 
Writer Bio
Henry is a freelance writer and personal trainer living in New York City. You can find out more about him by visiting his website: henryhalse.com.