How Does Elite Gymnastics Work?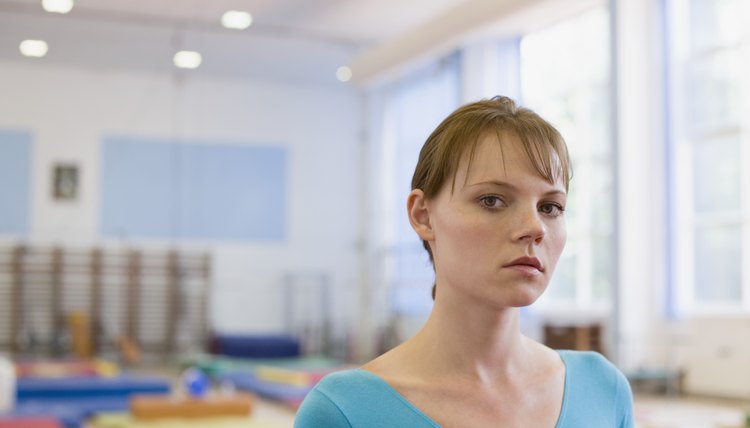 Elite artistic gymnasts are the best gymnasts in the world, competing for rankings and medals. Elite gymnastics begin once a gymnast has surpassed level 10 and met the elite requirements. In the United States, elite gymnasts are members of USA Gymnastics and follow the Federation de Internationale Code of Points.
Purpose
Competition is the main purpose of elite gymnastics. The women's elite program says its purpose is to provide competitive experiences for gymnasts aspiring to the national team. The junior elite men's program states its purpose as "the recognition of competitive excellence through national team participation" and "raising the standard of excellence in international competition through the educational process." The men's senior elite program represents the United States at international competitions.
Elite Qualifications
The exact qualifications for elite status are always changing. In 2011, the age qualification for the women's senior elite program was 16 years. Gymnasts had to be ages 11 to 15 for junior elite. For men, junior elites could be 12 to 18 years old. The men's senior program was open to gymnasts at least 16 years old. Gymnasts can qualify through a number of national competitions with a minimum score. For example, a gymnast could receive elite status with a score of 35.00 at regional qualifiers, national qualifiers or team training camp, or a 53.00 at the previous year's championships.
National Teams
Elite gymnasts dream of making the national team. In women's senior elite, the top 12 from the final all-around at the U.S. Championships join the national team. The national junior team also selects its gymnasts from the top 12 all-around juniors from the U.S. Championships. The Athlete Selection Committee may add up to four gymnasts to the national teams. The men's senior team makes its selections from the U.S. National Championships and Winter Cup. The men's junior elite team makes its selections from the Junior Olympic National Championships and the U.S. Championships.
Competitions
Elite gymnasts must have valid passports because they compete all over the world. Gymnasts compete as individuals for event medals and the all-around medal. Gymnasts also compete as part of the U.S. team for the team medal. Men compete on the still rings, horizontal bar, parallel bars, pommel horse, floor and vault. Women compete on the floor, vault, uneven bars and beam. Competitions include the Pan America Games, World Championships, World Cup and the Olympics every four years. Elite women compete at the American Classic and Cover Girl Classic in the United States.
References
Writer Bio
Ivy Morris specializes in health, fitness, beauty, fashion and music. Her work has appeared in "Sacramento News and Review," "Prosper Magazine" and "Sacramento Parent Magazine," among other publications. Morris also writes for medical offices and legal practices. She holds a Bachelor of Arts in government-journalism from Sacramento State University.