The Strengths & Weaknesses of Soccer Formations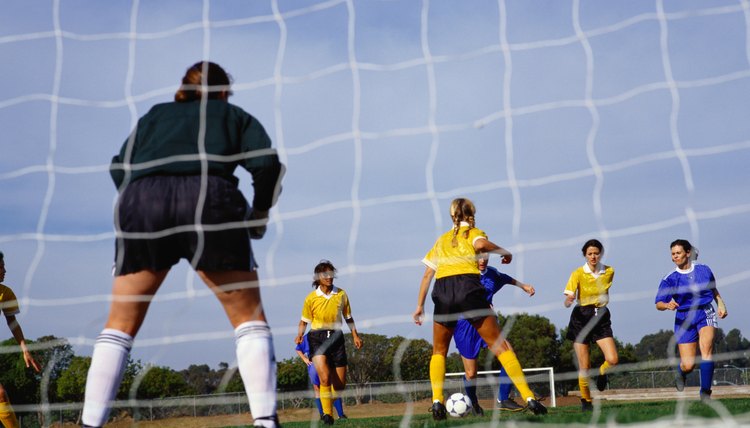 Unless you are coaching an under-6 team, with three youngsters allowed to form random triangles, you need to provide some shape to your players on the field. Older youth and adult teams place one player in goal and organize the remaining 10 players so each has a rough idea of where to be on defense, offense and in transition. Knowing the strengths and weaknesses of potential formations helps you better match the formation to your players and to your game strategy.
4-4-2
The most prevalent formation for players aged 15 and older, including adults and international play, is the 4-4-2. This formation uses four defenders, four midfielders and two attackers. Like most modern formations, the 4-4-2 emphasizes defense first. This formation is balanced with each side a mirror image of the other, youth coach Debra LaPrath notes in "Coaching Girls' Soccer Successfully." Therefore, players easily can regain their shape on transition, because the placement of the left back, for example, mirrors that of the right back. Variations include the diamond formation, where the four midfielders play in a diamond created when one central midfielder goes forward to attack and one stays back to help on defense.
4-4-2 Application
This basic formation best suits a team of balanced strengths facing another team of equal abilities. A 4-4-2 team that meets an opponent in a 4-3-3, with just three midfielders, enjoys an obvious advantage in the midfield. If you encourage your wing defenders and midfielders to move forward on the attack, a 4-4-2 converts to a 2-4-4 to press opposing defenses. This strength can also be a weakness, as your pushed-up team can be susceptible to counterattacks that expose your temporarily missing defenders.
4-3-3
More common in amateur play in past decades, the 4-3-3 formation still shows up among recreational and competitive teams confident of their offensive superiority over an opponent. The 4-3-3 features three midfielders and three forwards; the third forward especially puts pressure on a defense. The strength of the 4-3-3 is its flexibility, states former Tottenham manager David Pleat in a video for the online site UEFA Training Ground.
Barcelona's Version
At the other end of the spectrum from amateur play, European champion Barcelona has revived a version of the 4-3-3, based on its sublimely skilled midfielders and forwards that interact with each other with constant motion and passing to confuse opponents. The formation does risk greater fatigue among the busy forwards. So managers of teams with less talent than Barcelona may go to a 4-3-3 only in the late stages of the game to seek a needed goal.
4-5-1
Elite pro teams may try the 4-5-1 if they have a star striker who can create goals or if they want to possess the ball and hold a narrow lead. Manchester United has tried this formation in European championship play with Wayne Rooney in the lone striker position against Barcelona. Chelsea also pins its hopes on athletic forward Didier Drogba in the 4-5-1. This formation depends on the two outside midfielders acting as wingers and moving forward to offer options to feed the striker.
References
Resources
Writer Bio
An award-winning writer and editor, Rogue Parrish has worked at the Washington Post, the Baltimore Sun and at newspapers from England to Alaska. This world adventurer and travel book author, who graduates summa cum laude in journalism from the University of Maryland, specializes in travel and food -- as well as sports and fitness. She's also a property manager and writes on DIY projects.