What It Takes to Be a Good Soccer Player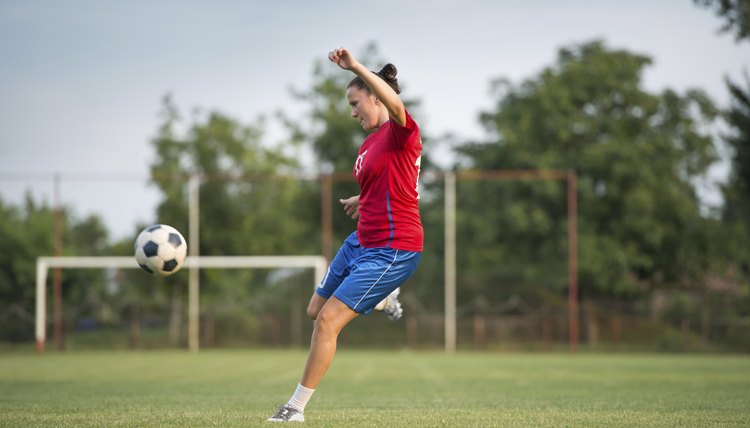 Certain soccer players are blessed with natural ability, but even that doesn't guarantee soccer success. You need to work hard to become a good soccer player, both on and off the field. You also need to have a love for the game that keeps you motivated when things aren't going your way.
Skills
A good soccer player must have a strong command of all the necessary skills. The exact skill set depends on your position, but all players need to possess good ball control and passing abilities. You don't need to be the most skillful or stylish player on the field to succeed in the game. You should practice simple side-foot passing every single day if you want to make it as a player, notes former England defender Gary Neville in an article for the BBC Sport website. If you practice the fundamental soccer skills regularly, you will soon stand out from the crowd.
Fitness
A full 90-minute soccer match requires stamina, and a good soccer player needs to play at close to his peak performance for the entire game. If your fitness levels are low, both you and your abilities will slowly decline during 90 minutes of play. Pay close attention to your fitness levels as well as your skills during training.
Attitude
Mental attributes such as dedication, professionalism and work rate, often separate average players from good, or potentially great, soccer players. Long-term success in the game requires a positive attitude. Soccer scouts, for example, don't just look for the most skillful young players. They also look for determined, passionate and strong-willed players.
Teamwork
Soccer is a team sport, so you need to work well with your teammates. You also need to listen to your coach's instructions and follow her game plan. Don't be afraid to show off your individual skills during a match. But remember that selfishness on the pitch is unlikely to win you any praise or popularity.
Discipline
Discipline is important on and off the soccer field. On the field, you must respect the laws of the game and the referee's decisions. If you develop a reputation as a hotheaded player, coaches will hesitate before making you a regular part of the starting lineup. Off the field, you will need to make some sacrifices. Your diet and other lifestyle choices need to be those of an athlete, so stay clear of junk food, cigarettes and alcohol. A disciplined player also needs to be on time for training sessions.
Intelligence
Good players have a certain type of intelligence, an attribute often referred to as having a good "soccer brain." In "Qualities of a Soccer Player," the FC Alliance highlights six areas that make up a player's knowledge of the game. These are positional play; vision; awareness; instinctive reaction; adaptability and inventiveness. You will develop these characteristics through match experience. You can also improve your soccer brain by watching professional soccer. Pay attention to the finer details of the game, keeping a close eye on star players who play in your chosen position.
References
Writer Bio
Anthony Grahame has been a writer for more than 15 years. He began writing professionally online in 2008. He has a degree in English literature from the University of Sussex and is an experienced traveler and travel writer. His work has been published on a variety of well respected websites including "Living in Peru".