How to Wash Ski Clothes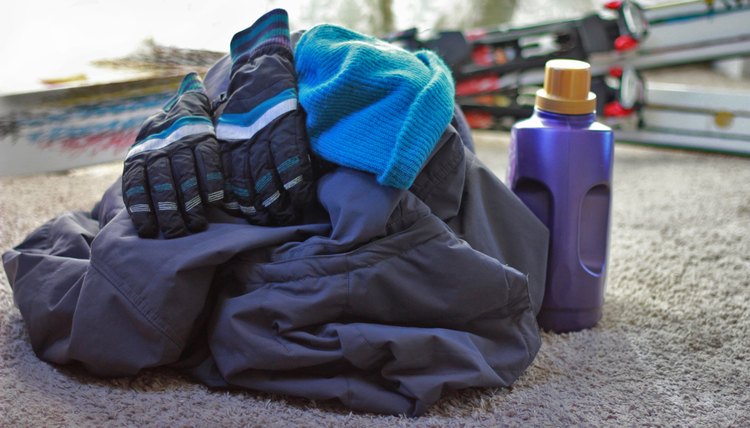 You shouldn't wash your ski clothes the same way you wash regular clothes. Ski clothes are made of specialized materials and have extra pieces that sometimes need special care or can be damaged by washing machines. Washing your ski clothing like regular clothing can cause damage and can nullify their water-resistance. The soaps and cleaners used to wash ski clothing are sometimes specifically made for this clothing and are different than regular detergents and soaps. One of your goals is to clean the clothing while making sure it does not lose its waterproofing capabilities.
Separate specialized garments from nonspecialized ones. Undergarments such as thermal underwear, shirts and socks can be washed in a washing machine with regular detergent.
Read the labels on specialized pieces of ski clothes, including jackets, beanies and snow pants.
Fill a wash basin with cold water and mix with a recommended detergent that protects waterproofing. You can also use the gentle cycle on a washing machine.
Rinse your ski clothing twice. If you are washing by hand, squeeze the water from your jacket. Avoid wringing or twisting.
Dry your ski clothing on the low cycle in a dryer or hang it to dry. Do not hang ski clothing directly above a heat source because it can damage the waterproofing.
Tips
You can spray water repellent on ski clothing after you dry it.
Warnings
Do not dry clean ski clothes.
Do not use bleach or fabric softener with ski clothing.
Writer Bio
Leland Gordon has been working as a newspaper writer for over 10 years, mostly in the sports area. He has written every type of story one could imagine. He has previously worked for the "Mountain Democrat," "Chico Enterprise-Record" and the "Redding Record Searchlight."