What Is a Slasher Basketball Player?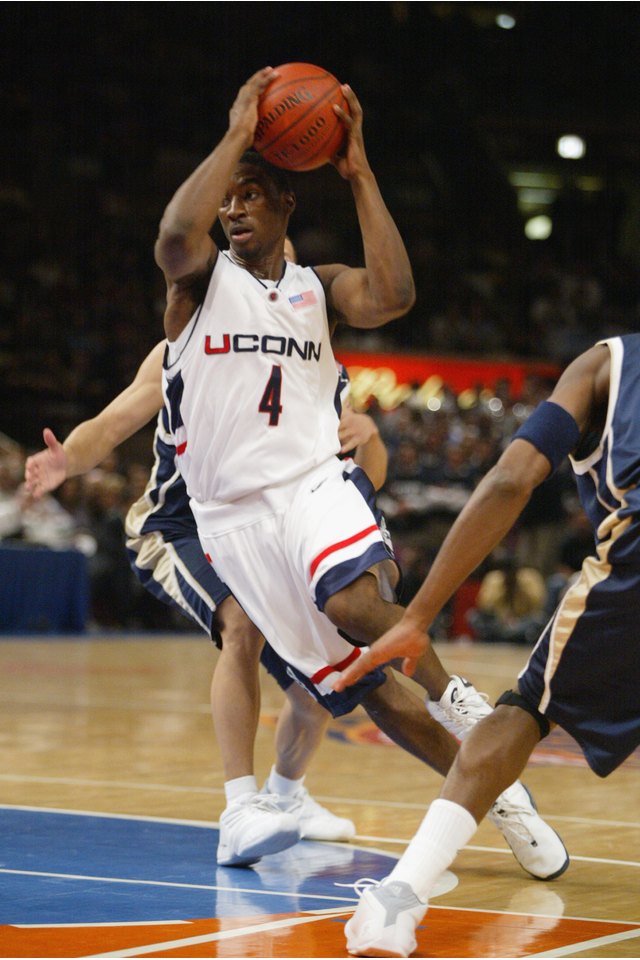 Basketball players score points in a variety of ways. Some stand behind the 3-point line and bomb away. Others exploit their size advantage and post up under the basket. Slashers use their athletic ability to score. They are fast and able to dribble through the tightest defense and attack the basket. Slashers do not shy away from physical contact, and the good ones draw fouls and rack up points at the free-throw line.
Straight Ahead
A slasher can handle the basketball or take a pass on the move. Unless the defensive pressure is suffocating, the slasher dribbles right to the basket and weaves around defenders. Slashers take most of their shots from close range, and you will see the gifted athletes drive in and dunk the basketball.
Draw the Foul
Slashers typically start dribbling from the perimeter, and they have to go through multiple defenders before reaching the basket. Fouls are common, either on the floor or in the act of shooting. The slasher has to be in top physical condition to continuously absorb contact and stay effective. Slashers can make the defense pay for fouling by making free throws.
Draw a Crowd
Slashers are big scorers, and they attract multiple defenders when driving to the basket. Forcing up shots is counterproductive. Skilled slashers draw a crowd of defenders and are aware of their teammates. With two or three defensive players collapsing on the slasher near the basket, other offensive players are wide open. Slashers that can pass off and get their teammates wide-open shots are doubly dangerous.
Physical Contact
Slashers have to be tough and fearless. They are pushed, shoved, slapped and tripped when driving to the basket. Slashers are often knocked to the floor, and they absorb hard fouls. Slashers need to bulk up in the weight room to add the physical strength needed to take a pounding. They also need to run and work on conditioning to gain the speed and endurance necessary to handle the important offensive role.
Writer Bio
Scott Amato has been a sportswriter for a major Midwestern daily newspaper since 1985. He has covered professional baseball, football and hockey. In addition, Amato has contributed to sports publications throughout the United States and Japan. He has a Bachelor of Science in journalism from Ohio University.