How to Repair a Tear in a Trampoline Mat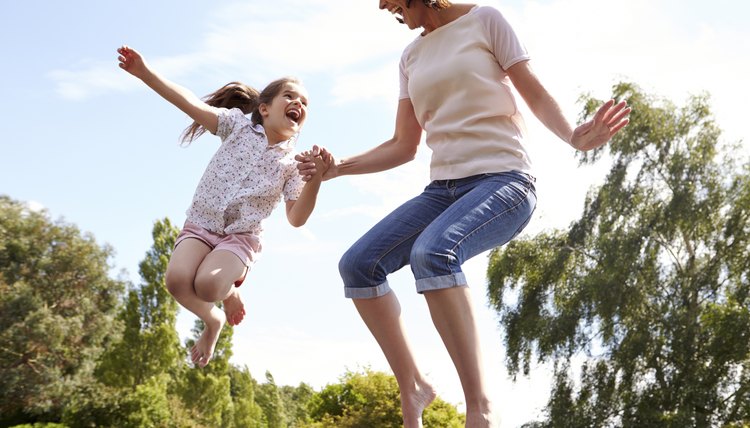 Trampolines are a great way to engage in family fun. They also provide an alternative for cardio exercise programs. Frequent use, UV rays and liquid spillage can cause them to wear and tear faster causing concern for safety. Once you see a tear in the trampoline mat, it must be fixed as soon as possible to avoid further damage.
Inspect your trampoline regularly. If you see a hole or a tear, immediately cover the affected area with duct tape. Only use duct tape for minor tears; larger areas of wear and tear require more extensive work to maintain safety.
Measure the size of hole in the mat. This helps you determine if you can patch the tear yourself or if a new mat is needed. A good rule of thumb is if a hole is larger than 2 inches, it should not be fixed and a new mat is in order.
Remove the trampoline mat if a hole is smaller than 2 inches. Take a patch from the manufacturers patch kit and place it over the tear. Use a sewing machine to sew all the way around the patch edges.
Read the instructions inside your patch kit. It will explain the type of stitching you need for the weave of your mat. Sew around the edges of the patch several times to ensure it is able to withstand more use.
Remove excess material by cutting around the patch. Lastly, place the mat back on its frame and it will be ready for use.
References
Writer Bio
Myrna St. Romain has been a writer for more than three years, contributing to such sites as ataglance.com and leisurepro.com. She received a Bachelor of Science degree in Nutrition from University of Nebraska in 2004 as well as personal training certifications through ACE and NASM.