NCAA Rules & Regulations for Off-Season Baseball Practices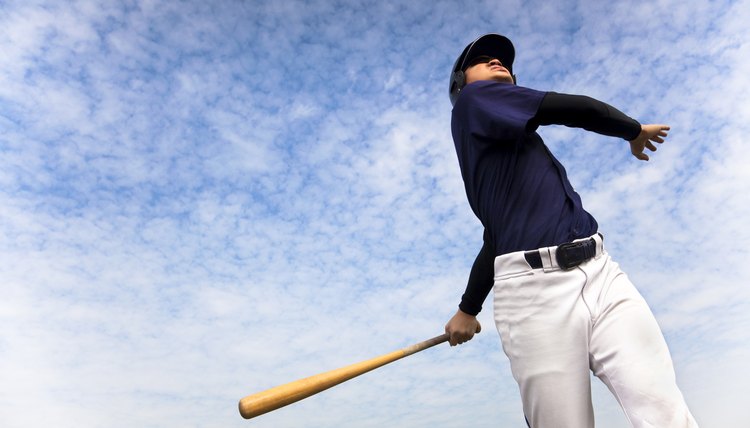 The National Collegiate Athletic Association, or NCAA, is the governing body for higher-level collegiate athletics throughout the country. If you are a baseball player or coach in the NCAA, you need to learn the rules for off-season practice to avoid penalties. Rules and regulations differ between NCAA Division I, NCAA Division II and NCAA Division III, so be sure to check the correct manual.
The NCAA and Student Athletes
Division I of the NCAA includes more than 300 colleges and universities. Another 300 institutions are in Division II, and Division III has 400 schools. Schools in NCAA Division I or Division II must meet certain criteria, such as minimum number of sports offered. Division II is less competitive than Division I. Division III is the least competitive. In each category, men's baseball is a championship sport with an NCAA-sponsored national tournament.
NCAA Rules and Regulations
An important role of NCAA rules and regulations is to allow student athletes to succeed in school while they are members of their college or university teams. During regular season and championship season, practices and games can be intense and time consuming. For baseball, the NCAA bans off-season practices associated with the college or college's own coaching staff to give baseball players the chance to recover from the season. Another benefit is to prevent competing teams from having advantages from extra practice.
Off-Season Information
The off-season begins at the end of the NCAA baseball championship game. During the summer, student athletes may not participate in school-sponsored or coach-organized baseball practices. The first pre-season practice may take place on the fourth day of classes or on a specified date in September, depending on which comes first. During this part of the off-season, teams must take at least one day off from practicing per week. Practices include weight training, conditioning and practicing skills and team plays.
Considerations
The off-season is an opportunity for mental and physical recovery. Athletes can also use the time for strength training and conditioning to reduce injuries when official practices begin again, according to Nyack College. Baseball players in the NCAA can take advantage of the forced time away from their regular teams and practices to improve their own skills. NCAA rules and regulations allow baseball players to play on independent, amateur teams without restrictions.
References
Writer Bio
Natalie Stein specializes in weight loss and sports nutrition. She is based in Los Angeles and is an assistant professor with the Program for Public Health at Michigan State University. Stein holds a master of science degree in nutrition and a master of public health degree from Michigan State University.