What Hiking Shoes to Wear in the Costa Rican Jungle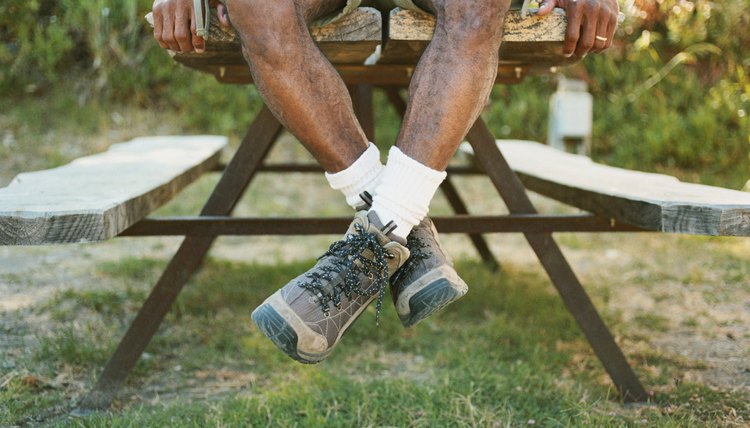 The best footwear for hiking in the jungles of Costa Rica is waterproof, sturdy, lightweight and protective against jagged rocks, forest debris and poisonous bites from native creatures like snakes. The hiking footwear should assist you in holding solid traction on the challenging trails you will encounter. Hiking in Costa Rica is often wet and muddy. And the climate can range from very cold to very warm before your jungle hike is over.
Aim High
Rough and rugged hiking boots aren't always the best option for trekking through Costa Rica's jungle trails. Wearing rain boots that graze the knees keep your feet dry and shield you from mud. Rain boots are lightweight and non-constricting. They also provide better lower leg protection from jagged rocks or sharp vegetation, as well as guard against bites from the reptiles and amphibians that are native to the region.
Place Matters
While hiking through Costa Rica's jungles you can count on covering terrain that varies widely, depending upon season and location. Hiking shoes that emphasize warmth are best suited to high-altitude regions like Irazu, Poas and Chirripo. Water-resistant footwear is most important if your adventure takes you to lowland locations such as Corcovado and Sarapiqui, especially during the rainy season.
Cover Up
Hike the jungles of Costa Rica in footwear that guards against injury to your toes. Wearing open-toed shoes increases the risk of abrasions, bites and fractures. Even though sandals have the advantages of being lightweight and comfortable and drying out quickly, wearing them on Costa Rica's jungle trails is not the safest choice.
Sole Survivors
Hikers place a high priority on traveling light. Some Costa Rica jungle hikes can involve trekking a combination of mountainous, rain forest and beach environments. For the sake of versatility, wearing sneakers is a viable option. But sneakers tend to absorb and retain moisture, so bring along an extra pair so that one water-logged pair has time to dry while you proceed on your hike in the spare pair.
References
Resources
Writer Bio
A. Scott Walton began his journalism career in 1985 at the "Nashville Tennessean." His reports have extended to radio, television and the Web and he has written extensively for the "Detroit Free Press," the "Atlanta Journal-Constitution," the "Atlanta Voice" and many other publications. Walton holds a Bachelor of Arts in communications from Vanderbilt University.