The Best Golf Shoes for Wide Feet
What to Look For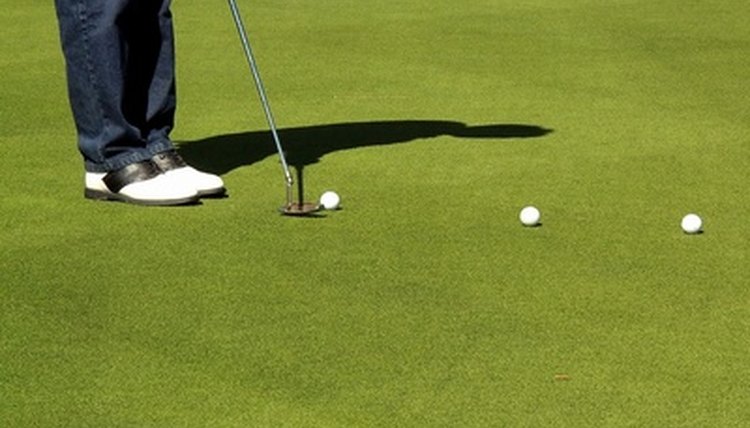 golf legs image by Vanessa van Rensburg from Fotolia.com
Make sure you actually have a wide foot before purchasing golf shoes with extra width. Golfsmith suggests having your foot properly measured to determine what size and type of golf shoe will provide the best fit and wear. Athletic-styled golf shoes are typically built wider than the saddle-shoe style. Golfsmith stresses trying on the shoe. Stand on one foot, then the other; the shoe should be tightest in the middle with room to wiggle the toes. Also, stand on your tiptoes to make sure the shoe flexes right where your foot bends. Experts at FootJoy note wider feet require a fuller "last" in the shoe.
Common Pitfalls
Not all golfers requiring a wider fit have the same shaped foot, so purchasing a wide width of your favorite brand may not be the best fit. Ed DiStefano, fitting specialist for ECCO shoes, says a person with a wide foot should look for a thinner inlay in the shoe and a higher instep to accommodate the need for extra toe room. Looking for a brand like ECCO that has flexible, customizing options can assure a reliable fit.
Where to Buy
ECCO golf shoes are available at most Golf Galaxy stores, PGA Superstores, Edwin Watts and Golfsmith. FootJoy sells a variety of widths and can be purchased at most PGA Superstores, Tour Stop and Edwin Watts stores. Purchasing online at sources like The Golf Warehouse may increase options but doesn't allow for custom fitting. Sporting goods stores like Sports Authority and Dick's will have a limited selection but opportunities for sales.
Cost
The ECCO brand of golf shoes can range in price from the low $100s to more than $200, and are more expensive because of their reputation for a comfortable fit. FootJoy and Adidas offer a fill range of wider sizes for under $200 and even market some options for under $100. Callaway is a more expensive choice at more than $200 for some shoes but they also offer a range of styles in the wider widths.
References
Writer Bio
Kimberli Nalven has been writing for more than 15 years and freelancing for over 10 years. She's experienced in the fields of computer and cellular phone technology, integrated medicine and health and fitness. She writes a monthly column for a local paper and posts daily Internet content in the area of elementary-years parenting.