Polo Match Etiquette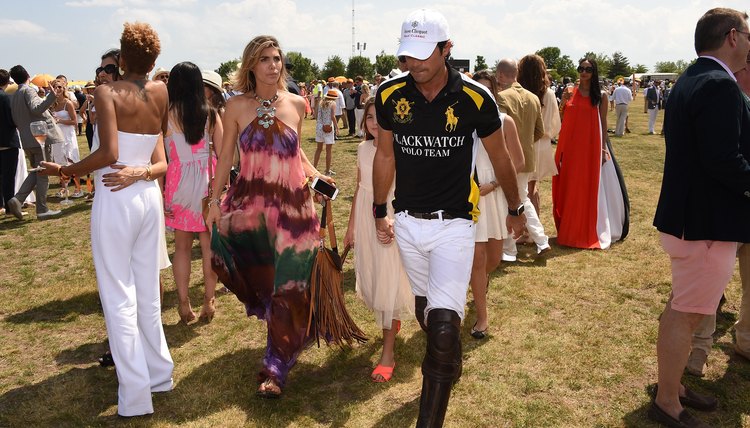 Polo is a sport synonymous with luxury, but that does not mean that only the rich and famous can attend a match. Far from touting the exclusivity of centuries past, polo has been trying to repaint its image as a game for everyone. Floppy hats and high heels are not required, but you may want to brush up on the rules and etiquette before attending a match.
History
The exact origins of polo are unknown, but according to the U.S. Polo Association, the first recorded evidence of polo dates back to 600 B.C. in China and Persia. In the 1700s, a polo ground that measures up to the actual size of a polo field today was built at Ispahan, the capital of Persia, by Shah Abbas the Great. According to Stregispolo.com, polo began to make its way into India during this century, where, in the 1850s, the British saw it being played; they established the first official polo club in 1859 at Silchar. Polo then moved to Britain in the 1860s, and to the U.S. in 1876.
Rules
According to Stregispolo.com, a full match is typically an hour and half, and divided into seven minute time periods called chukkers; if it is a high-goal match there will be six chukkers. The players, four per team, get three minute breaks in between chukkers as well as a 15 minute half time. The objective is to put the ball between the goal posts using your mallet, which can only be used on the right side of the horse. The path of the ball is called the "right of way," with the player who struck the ball having the "right of way." You can hinder your opponent by blocking her shot with your mallet or hooking your mallet around hers to prevent her from hitting the ball.
Spectators
Polo matches in the U.S. are attended by people from many walks of life, and can be casual affairs. One of the most prominent players in the world today, Nacho Figueras was interviewed for a June 2009 article entitled "Saddle Up for Polo in Casual yet Stylish Attire," on Denverpost.com. Figueras says that the most important thing to bring is your enthusiasm for the game. You can bring your children, your lawnchairs and even some tailgating food and beverages with you to the afternoon match. Binoculars may also be helpful. Fan interaction is encouraged, although basic courtesy and respect for players is preferred. You can clap loudly, cheer and even jeer; however, it is recommended to keep the latter option respectful.
Attire
According to Stregispolo.com, almost any style of attire is acceptable at a polo match, from jeans to "garden party chic." Certain matches or tournaments, particularly championship games or charity events, may call for a more formal outfit. For ladies, slacks, jeans, skirts and sundresses are the norm, with flat or wedge-heeled shoes; high heels are not recommended, as your heels will sink into the turf, making walking difficult. For men, a blazer may be part of your attire if you attend an important match or event, states the article on Denverpost.com. It is not necessary for a typical weekend game.
Traditions
Each polo match is replete with a few traditions, like afternoon tea. Most matches begin at around 3 p.m., ending around 5 p.m., after the prizes have been given out. You are encouraged to bring picnic or tailgating items, and to participate in tea time. You will also be prompted to take part in the interactive "stomping of the divots" during the half-time. This tradition makes wearing high heels difficult, as you are to walk out to the field and literally stomp turf back into the holes created by the horses' hooves. Beware of the "steaming" divot—a fresh pile of manure.
References
Writer Bio
Christy Callahan has been researching and writing in the integrative health care field for over five years, focusing on neuro-endocrinology. She has a Bachelor of Science degree in biology, earned credits toward a licensure in traditional Chinese medicine and is a certified Pilates and sport yoga instructor.