Metal vs. Plastic Cleats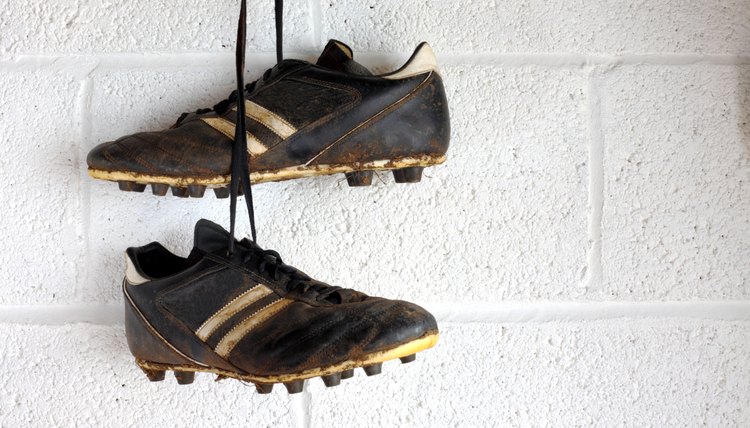 Top athletic performance, no matter what sport you play, depends first and foremost on stability. You need to have your feet firmly planted underneath you before you can throw, catch, kick, twist, turn or push off for a run. A pair of good cleats gives your feet much-needed traction on the turf for sports that take place on grass or dirt, like football, baseball, soccer, golf, lacrosse, rugby and others. The spikes are arranged in different ways for different sports. Despite these differences, there are only two real choices: cleats with metal or plastic spikes.
Heavy Metal
Cleats with metal spikes have been used in sports like baseball, football, golf, soccer and rugby for decades. Depending on the sport, the metal spikes are in different shapes, come in different lengths and are arranged in different patterns. The spikes themselves are made from steel for strength and durability. For mid- and high-range models, the metal spikes are replaceable, so that if one breaks off, bends or wears out before the shoe, you don't have to replace the entire pair of cleats.
Elastic Plastic
The other type of cleat comes with plastic cleats molded in the soles of each shoe. The shape of the plastic spikes also varies by sport, along with the configuration, however the length of the spikes is shorter to prevent premature breakage. The spikes of plastic cleats are somewhat elastic, even for hard-molded models, and can bend under heavy pressure, such as full-sprints, pivots and slides. The plastic spikes are also not replaceable and wear down quickly.
Head to Head
Cleats with metal spikes are usually more expensive than plastic cleats, but the increased durability and effectiveness in turf sports -- like baseball, soccer, golf and football -- mitigate the added cost. Metal spikes dig into grass and dirt deeper than plastic spikes, and the metal stays rigid, while plastic bends, diminishing the overall amount of traction. For walking on any surface other than dirt or grass, cleats with metal spikes are loud and cumbersome, while plastic cleats are quiet and nondescript. Metal spikes, due to their expense and long life, are better suited to teen and adult athletes who no longer experience bursts of foot growth, especially for those playing in highly competitive leagues. The increased cost is usually worth the improved performance. Plastic cleats are better suited to young players who need to consistently increase shoe size every few months or recreational players who may not need top-level performance at a top-level price.
Check League Rules
Some leagues, especially at the youth level, ban the use of cleats with metal spikes due to injury concerns. For example, Little League Baseball prohibits the players, coaches and umpires who participate in divisions for 9 to 10 year olds and younger to wear only plastic cleats. Many leagues that regulate other youth sports, such as football and soccer, also prohibit the use of metal spikes, essentially requiring the use of plastic cleats by default. Some adult recreation leagues for flag football and softball also prohibit the use of cleats with metal spikes.
References
Writer Bio
Bobby R. Goldsmith is a writer and editor with over 12 years of experience in journalism, marketing and academics. His work has been published by the Santa Fe Writers Project, "DASH Literary Journal," the "Inland Valley Daily Bulletin" and WiseGEEK.