What Do Hurdlers Wear?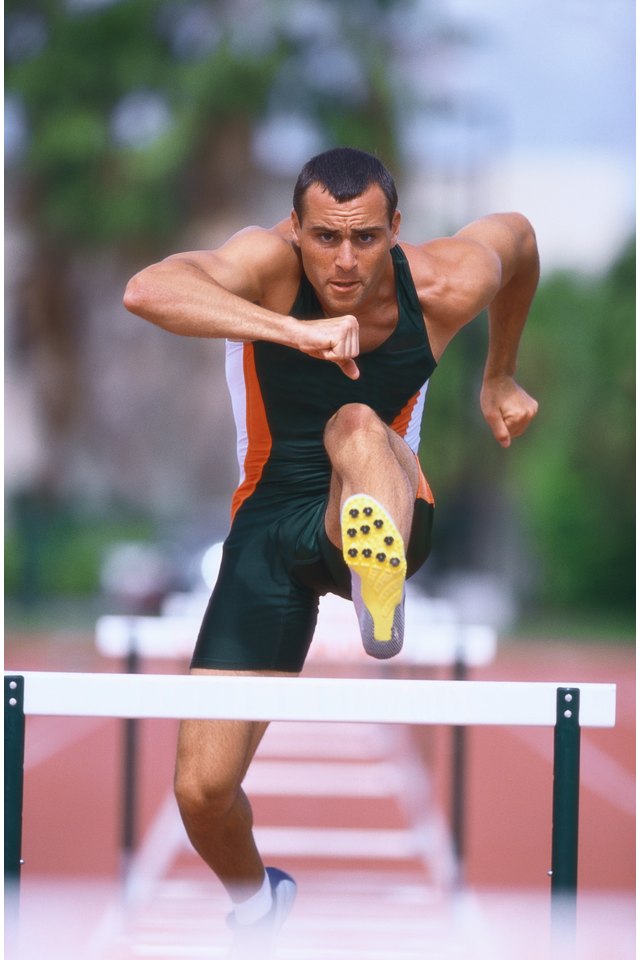 The performance-enhancing apparel of hurdlers aims to increase speed and maximize comfort, making use of cutting-edge fabrics, moisture-management systems and even the latest printing technologies. In the modern track and field apparel industry, even the lightest weight cotton is a thing of the past, giving way to slicker, more breathable materials. While competitive hurdlers on a track and field team may receive a custom uniform, hobbyist runners are free to choose their gear.
Footwear
When it comes to performance on the track, footwear is perhaps the most essential article of clothing for a hurdler. Track and field runners choose from a myriad of lightweight, breathable shoes, but most competitive hurdlers opt for shoes with 1/8-, 1/4- or 3/8-inch track spikes to increase traction. Some events impose limits on spike length and the number of pins per spike plate, a specialized sort of sole in which the individual spikes, or pins, are fastened. Spike plates come in rigid, flexible, full-length, three-quarter plate and half-plate varieties, while pins come in steel, ceramic and titanium alloy types. Sprint spikes, rubber spikes and road racing flats provide alternative options for those who find track spikes uncomfortable.
Upper Body
Hurdlers typically wear a short-sleeved top, tank top or sleeveless, tank-top like top known as a singlet. Made from materials as diverse as nylon, spandex or recycled polyester stretch fabric, these tops vary in style from loose to form-fitting, depending on the hurdler's preference. Some feature mesh textures to increase airflow. Modern track and field apparel usually employs moisture-wicking technology, which evaporates dampness, for sweat management. In competition, hurdlers may sport square or rectangle-shaped race numbers attached to their shirts.
Lower Body
Athletic shorts with elastic waistbands, typically made from the same materials as the upper-body track and field apparel, serve as the most common lower-body apparel choice for hurdlers, although some may opt for long running tights. While shorts have a generally loose fit, running tights – some of which are made of spandex – are more snug and may feature drawstrings or leg zippers to ensure a tight fit. Briefs-style bottoms take the seamless, sleek nature of running tights even further. Some long running tights feature dimpled patterns or vents that help reduce aerodynamic drag. Hurdlers may also choose one-piece options, such as sleeveless or short-sleeved speed suits. Both upper and lower body apparel often feature patterns or logos, sometimes printed via a digital sublimation process that prints directly into the fabric for increased colorfastness.
Accessories
Hurdlers choose thin or thick moisture-wicking socks, depending on the fit of their shoes, for dry and comfortable on-field performance. Due to the lack of sole support commonly found in track spikes, some hurdlers make use of insole inserts. Female hurdlers run with cross-backed, wire-free sports bras to relieve pressure and provide chest support.
References
Writer Bio
Dan Ketchum has been a professional writer since 2003, with work appearing online and offline in Word Riot, Bazooka Magazine, Anemone Sidecar, Trails and more. Dan's diverse professional background spans from costume design and screenwriting to mixology, manual labor and video game industry publicity.