How to Make Your Hips Look Slimmer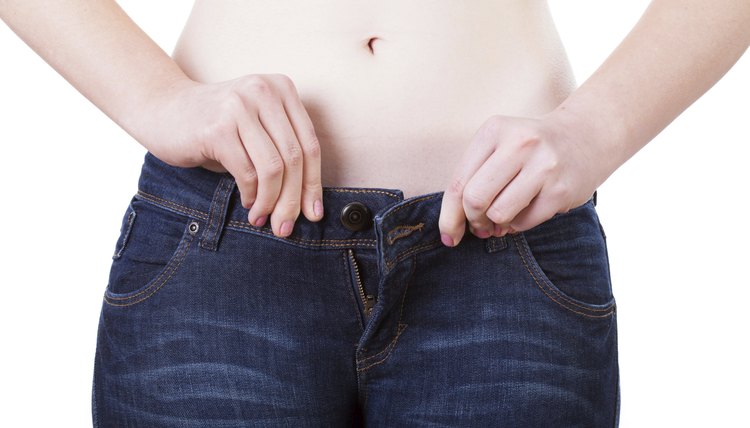 Working out and exercise can only do so much when you have naturally wide hips. Weight gain over the years, pregnancy and childbirth can all make your hips look wider, even if you're a generally healthy and fit person. When you've done what you can fitness-wise to whittle your hips, you may need to turn to fashion tips and tricks to help you minimize your hips so they are less noticeable and more proportionate to the rest of your body.
Look for pants that have a wider leg opening for a boot-cut style. Wearing skinny or tapered jeans can make your hips look wider in proportion to your body since your hips will be the widest point on your body. An easy way to tell if jeans are boot cut or not is to fold the pant leg up in the middle of the shin area. Make sure that the lower area of the pant leg lines up with or is slightly wider than the pant leg underneath. If it's thinner, find a new pair of jeans.
Invest in skirts and dresses that are cut in an A-line, meaning they flare out from the waist. Pencil skirts may be stylish, but they cut close to your hips and make them look wider. An A-line skirt minimizes hips because it flows gently away and adds volume in the thighs for a more balance physique.
Belt your clothes at your natural waist. Sweaters, blazers and dresses, when belted higher, can make your legs look longer and your hips look slimmer. Instead of putting emphasis on your wide hips, you draw the eye upward and to your waist. You can tie skinny belts to add extra interest, or wear wide, stretchy belts traditionally to cinch your waist and take the emphasis off of your hips.
Fit the widest part of your body when trying on pants. Pants are obviously not a "one size fits all" item of clothing, and you may find that going a size up helps to fit your hips more comfortably. The "Cosmopolitan" magazine website suggests having your pants tailored so they fit your hips and waist properly, no matter what your individual proportions may be. Fit your hips first, and worry about tailoring the rest later.
Pair a lighter colored shirt with darker pants, and wear shirts with interest at the neckline. Wearing lighter colors brings the attention to your upper body and face, while darker colors on the bottom absorb light to make your hips look smaller, notes the "USA Weekend" website.
References
Writer Bio
Kay Ireland specializes in health, fitness and lifestyle topics. She is a support worker in the neonatal intensive care and antepartum units of her local hospital and recently became a certified group fitness instructor.