How Many Youth Participate in Sports in the U.S.?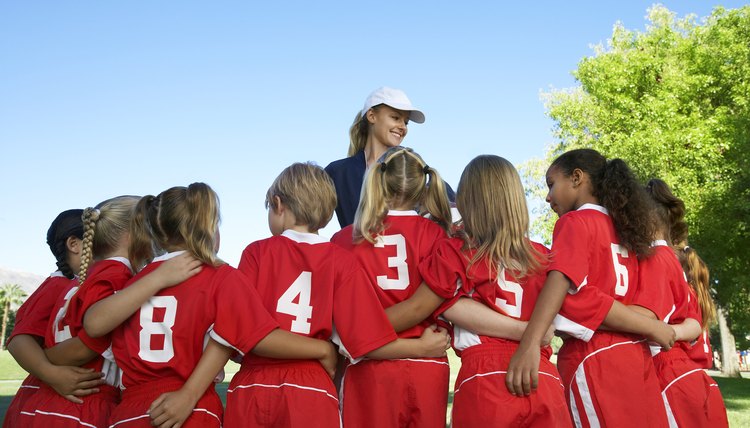 Having fun, making friends and getting exercise are just a few benefits for youths who participate in sports. However, sports also help children learn and hone skills such as how to challenge themselves and how to cope with intense competition. Most children develop the necessary skills and physical abilities to participate in sports around age 6 or 7, setting a foundation for sports involvement that can last well into adulthood.
Numbers
Sixty-nine percent of girls and 75 percent of boys in the United States participate in organized and team sports, according to the 2008 report titled "Go Out and Play: Participation in Team or Organized Sports" conducted by the Women's Sports Foundation. Between 2006 and 2007, approximately 7,342,910 boys and girls participated in high school sports. While youth participation in sports continues to rise, 15 percent have never participated in sports.
Geographic Gap
Participation in sports by youths tends to be higher among those living in suburban areas compared to those living in urban and rural areas, according to "Go Out and Play." For instance, 81 percent of girls in grades three to five in suburban areas participate in at least one organized sport, but that number falls to 73 percent for rural girls and only 59 percent for urban girls. However, there's less of a geographic disparity among children in grades nine to 12 when sports participation in general tends to taper off.
Gender Gap
Across all grades in the study -- from 3 to 12 -- boys outrank girls in sports participation. Girls tend to join sports later in life than boys, but are more likely to be "moderately involved athletes," which means they competed in one or two sports. Thirty-one percent of boys are considered "highly involved" athletes, competing in three or more sports. But at all grade levels, moderately involved athletes outnumber the highly involved crowd.
Getting Kids Involved
If you're thinking of signing your child up for a sport, get her input. Consider your child's personality. For instance, if she's a loner, she might prefer individual sports such as tennis over a team sport such as soccer. Avoid pushing your child into a highly competitive sport if she's not interested. Don't be alarmed if your child tries a sport and bows out shortly after. She can use the experience as a stepping stone to finding an activity she does like. Also, consider the financial and time commitment you will have to make.
References
Writer Bio
Kay Uzoma has been writing professionally since 1999. Her work has appeared in "Reader's Digest," "Balance," pharmaceutical and natural health newsletters and on websites such as QualityHealth.com. She is a former editor for a national Canadian magazine and holds a Bachelor of Arts in political science from York University.