What Kind of Goggles Do Olympic Swimmers Use?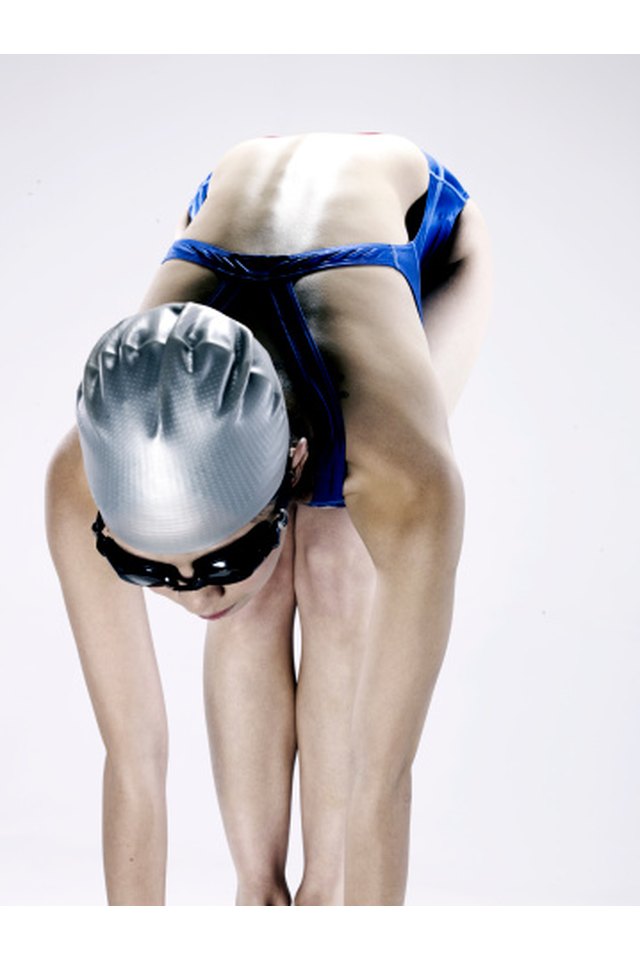 The use of goggles by swimmers was not allowed in the Olympics until 1976. Presently, Olympic swimmers use goggles to be able to see under water while swimming at high speeds and to keep their eyes protected from chlorine and other chemicals present in pool waters. The goggles must feel comfortable for the Olympic swimmer so that they can focus on their training and races, without having to worry about the goggles tearing or malfunctioning in the middle of an important competition.
Goggles With A Comfortable Fit
Goggles used by Olympic swimmers should fit snuggly, so that absolutely no water gets inside, which can blur the swimmer's sight and make him go off track. The fit should withstand the dive many Olympic swimmers take at the beginning of a race, without the need for re-adjustment. However, they shouldn't fit so tightly that they hurt the swimmer's skin or create too much pressure on his eye sockets. Juliet Lapidos writes in her article "Easy on the Eyes," published by Slate.com in 2008, that Lindsay Mintenko, a two-time Olympic gold medalist, recommends goggles that need assembly, such as the Swedish brand Malmsten, which can be custom fitted and have no seals around the eyecups.
Goggles With Good Visibility
Olympic swimmers need the best visibility a goggle can provide as they glide through the water. This helps the swimmer stay focused and on track, as a crooked stroke can slow down his pace and cost him valuable seconds during a race. It also allows him to see the end of the pool with time to turn before hitting it full speed. Good visibility goggles used by Olympic swimmers do not let water in, and they stay fog free. The Nike Swift Strapless Goggles are used by Olympic swimmers as they offer good visibility and have the added bonus of not having a nose bridge.
Specially Designed Goggles For The Olympics
The TYR Nest Pro is a pair of goggles that was specially designed for the 2008 Olympics. The frame of this pair of goggles features an over-molded nose bridge that prevents leakage. It also has a head strap with a patented clip that glides, making it easy to adjust quickly when needed.
Goggles Used By Michael Phelps
Olympic gold medalist Michael Phelps wore the Speedo Speed Sockets in the 2004 Olympic games. This pair of goggles has enhanced peripheral vision, anti-fog qualities and is shatter resistant. It also comes with three sizes of nose bridges to assist with fitting them comfortably.
References
Writer Bio
Martha Premie began writing in 2001. She is a licensed acupuncturist in Asheville, North Carolina, where she also teaches yoga and consults individuals on holistic health and nutrition. She has been published by the "Mountain Express Asheville" and "Take 5." Premie holds a degree in literature from SD Mesa College and a Traditional Chinese Medicine degree from the Daoist Traditions School of Chinese Medicine.