Ping Eye2 Vs. New Golf Clubs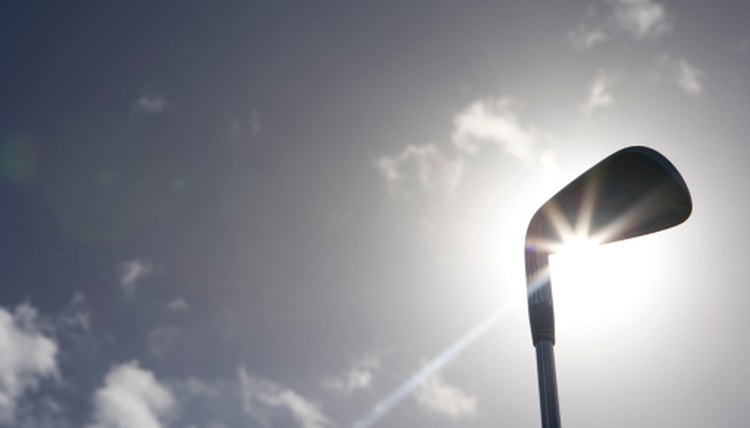 Ping Eye2 golf clubs were first produced in 1982, and were the best-selling iron of the 1980s, the company says.. Ping Eye2 irons featured a perimeter-weighted clubhead and square-faced grooves for improved spin. Ping Eye2 originally faced controversy for its unorthodox design and groove style, but the iron still remains a popular choice among amateur players today.
Design
Ping Eye2 irons revolutionized golf equipment with their perimeter-weighted clubhead, cavity back design and offset hosel. But these design features are now common in newer golf sets, especially those designed for beginners. Callaway Big Bertha irons feature many of these design features, and Ping's bold style paved the way for several newer golf club manufacturers.
Materials
Ping Eye2 irons are composed of stainless steel, which provides both a resilient surface and soft feel. Newer manufacturers have experimented with titanium, nickel, carbon and graphite in iron sets. But stainless steel still remains the most popular choice of iron material, notes PurelyGolf.com. Ping Eye2 irons can only be found with steel shafts. Newer sets provide either graphite or steel, but steel shafts are still the preferred choice of most PGA professionals.
Specifications
One of the biggest differences between Ping Eye2 irons and newer clubs is the loft of each iron. Newer clubs feature stronger lofts throughout the set, giving them slightly more distance. For example, the Ping Eye2 5-iron has a loft of 28.5 degrees, while Ping's K15, produced in 2010, has a 5-iron loft of 26 degrees. Other specifications such as lie angle and length have remained fairly constant over time.
Recommendations
Despite the enormous popularity of Ping Eye2 irons, this model is no longer produced. Nevertheless, Ping Eye2 irons have stood the test of time, and you could certainly do a lot worse than a quality set of used Eye2s. Due to their popularity, used sets of Ping Eye2 irons are common. When purchasing a set used, note the colored dots on the clubheads, an indication of Ping's color-code custom fitting system. All the colors should match each other, as well as your height and swing specifications.
References
Writer Bio
Graham Ulmer began writing professionally in 2006 and has been published in the "Military Medicine" journal. He is a certified strength-and-conditioning specialist with the National Strength and Conditioning Association. Ulmer holds a Master of Science in exercise science from the University of Idaho and a Bachelor of Science in psychology from Washington State University.