The Best Stationary Swimming Harness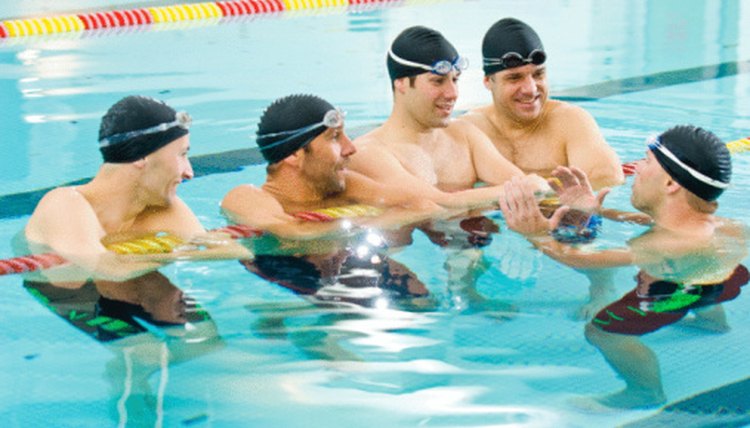 If you need a swim workout and don't have access to a lap pool, a swimming harness, also called a tether, will allow you to get a good workout using a smaller space. Most tethers have a belt that goes around your waist and is connected to flexible tubing that keeps you in place as you swim. The best type for you depends, in part, on the type of pool you swim in.
Basic Harness
Basic swimming harnesses consist of elastic cords that attach to your belt on one end and to the pool via suction cups on the other end. This design is easy to install. However, you must attach the cords on the pool side far enough apart to accommodate your kick. If you want to perform wide kicks this may become a problem, but it works for the standard flutter kick. If you have a vinyl, rather than a tile pool, this design won't work for you because the suction cups won't attach to the vinyl. As of 2011 the price for this type of harness is under less than $100.
Elevated Harness
Other devices elevate the tether so that you don't have to worry about kicking it. In one design, the tether attaches to the top of an anchored pole on one end and to a swim belt on your end. The pole's base sits in the water and is anchored by a cord that attaches to a fixed object outside the pool like a tree or swim grommet or is staked into grass. The pole does not take a long time to set up, nor does it require tools. You can use it with in-ground or above-ground pools made of any material. As of 2011 this style device could be found for less than $100. In another design, you attach the pole permanently to the ground by drill into your deck and mounting it. You may want to consider this design if you will be swimming in a fixed spot. However, it is about double the price of the elevated tether style that you must anchor.
Toe Harness
A third design attaches to the toe of special water shoes on one end and to any fixed object, such as a pool ladder or pool lane grommet, on the other. This design also has the advantage of taking a small amount of time to set up. Despite being attached to your toes, the device also allows for a full range of motion without snarls, notes the Swimming Pool Intelligence website. While the system is relatively inexpensive -- less than $100 in early 2011 -- if there is more than one user you'll likely have to dig back into your wallet for another pair of swim shoes.
Harness and Tank
If you do not have access to a pool at all, and don't have thousands to spend on a swim training pool, there are swim harnesses systems that include the swimming tank such as the iPool. This option, of course, is more spendy, in the $1,000 range. The tank has a footprint of 6.5 by 10 feet and is made of fabric and lined with a PVC coating. Metal tubing holds the pool and the harness in place. The harness is elevated and out of the way of your feet. Set up, of course, is more complex, but takes an average of 30 minutes, according to product information. You also must have enough space to accommodate the pool -- a level spot that's 14.5 by 11.5 feet.
Considerations
While stationary swim harnesses sound like a good way to get a workout, not all swim experts are fans of the devices. "Total Immersion," authors Terry Laughlin and John Delves say the backward tension that holds you in place isn't ideal if you need to work on form. That's because the authors believe it makes you swim awkwardly, thus is counterproductive. The authors caution that, when it comes to swim training aids, you don't always get what you pay for. The simplest tools most often work the best.
References
Resources
Writer Bio
Linda Tarr Kent is a reporter and editor with more than 20 years experience at Gannett Company Inc., The McClatchy Company, Sound Publishing Inc., Mach Publishing, MomFit The Movement and other companies. Her area of expertise is health and fitness. She is a Bosu fitness and stand-up paddle surfing instructor. Kent holds a bachelor's degree in journalism from Washington State University.