Adult Football Teams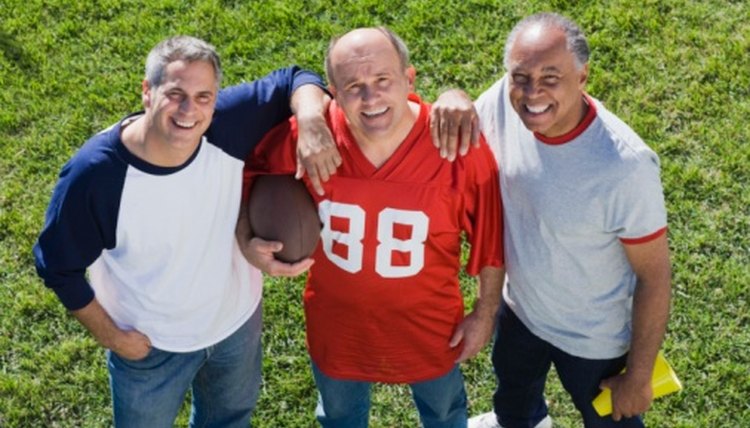 While Major League Baseball and the National Hockey League have extensive minor-league systems, and even the National Basketball Association has adopted a developmental league, the National Football League has no such system to support its product. The NFL relies on college football to supply the vast majority of its players. Yet football does exist outside the NFL. Numerous adult football leagues have sprung up across the U.S., providing players a chance to compete in the sport they love for fun and even career advancement.
Identification
A standard adult football league permits players 18 and older to compete in tackle football, living their dreams of NFL glory on a much smaller scale. The majority of adult football leagues don't pay their players any salary whatsoever, with participants competing strictly for the love of the game. Adult football league teams often wear helmets and uniforms on par with the professionals and sport unique names like the Outlaws, Vipers, Thunderbolts and Crusaders.
Rules And Schedules
Most adult football leagues follow the official NFL rules and regulations in an attempt to mirror the NFL experience for their players and their fans. Scheduling remains one major difference between adult league football and the pros. Since they admire the NFL so much, adult football leagues seldom schedule games during the NFL season, with most adult league seasons beginning in March and running into June.
Benefits
Aside from providing a chance to continue playing organized football well into adulthood, adult football leagues also offer aspiring professionals a chance to continue practicing their craft in hopes of catching the eye of an NFL scout or college recruiter. Without a viable minor-league system in place, scouts and recruiters often keep tabs on adult football leagues in hopes of unearthing hidden gems. Adult leagues allow players to stay in shape and improve their skills in case they ever do get a shot at stardom.
Famous Ties
Adult football leagues have paved the road to success for more than a few players. Center Bryan Pittman won two national championships with the Puget Sound Jets of the Northwest Football League before landing a job as a longsnapper with the Houston Texans of the NFL. Pittman played seven seasons in the NFL, snapping for the Texans and briefly with the Atlanta Falcons. Sam Jones, who reached national prominence as the star of the 1980 film "Flash Gordon," also competed in the Northwest Football League, playing for the Burien Flyers.
References
Writer Bio
William Lynch has been a freelance writer for the past fifteen years, working for various web sites and publications. He is currently enrolled in a Master of Arts program in writing popular fiction at Seton Hill University. He hopes to one day become a mystery novelist.