What Does SAG Stand for in Cycling?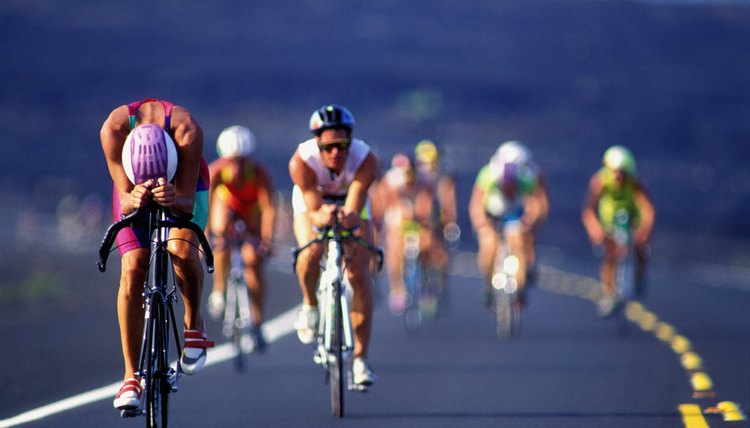 If you are a bicyclist, SAG stands for support and gear. During a race, a SAG vehicle will be a welcome sight as you fatigue or encounter mechanical complications with your bike. If you are not a cyclist, you can support the athletes by volunteering to be a SAG driver.
Support
Before you begin your bike race, you place food, water, energy drinks, tire pumps, tools or bike parts into the SAG vehicle. As you progress toward the first rest point, you may notice the SAG vehicle following the cyclists' route to arrive at the rest point prior to your arrival. When you reach the rest point, the SAG driver will have your supplies and provide instructions to the restrooms, as well as motivation.
Gear
You may use the SAG vehicle to hold bike parts if you need to make small repairs along the route. You will have the SAG driver's number and the driver will bring the parts to you along the route if you cannot make it to the next rest point. Some professional SAG companies are hired to provide gear during the race and will repair your bicycle for you. You can use the SAG vehicle to hold other gear such as extra clothing in cooler weather.
Emergency
You will appreciate having a SAG driver if you encounter an emergency and cannot finish the race. The driver will pick up you and your bike and transport you to the end of the race. If your injury or fatigue is not life-threatening, you may have to wait out a SAG rest point with the driver until the other riders pass through. SAG drivers can call 911 and help to clear streets if an emergency is life-threatening.
Extras
SAG support includes distracting any dogs that may chase you during your ride. Drivers are also responsible to complete a final drive of the route to ensure that all cyclists have finished the race. As the driver proceeds ahead of you, he can remove any obstacles or hazards on the route.
Writer Bio
A mother of two and passionate fitness presenter, Lisa M. Wolfe had her first fitness article published in 2001. She is the author of six fitness books and holds an Associate of Arts in exercise science from Oakland Community College. When not writing, Wolfe is hula-hooping, kayaking, walking or cycling.