What to Use to Track Miles on a Bike Trip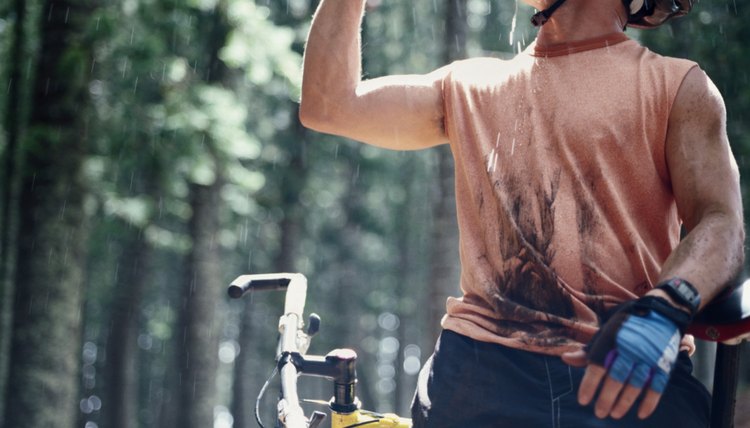 From high-tech to the old-fashioned, you can choose from numerous methods of tracking your cycling miles. Whether you're a road bike commuter wondering how many miles you log each work week or a mountain biker tracking the length of your latest trail, you can buy a bike computer at a specialty store or cruise the Internet to find a tool that meets your needs. The cheaper computers may require you to run a wire down the brake cable; however, most are wireless. You might need to input the wheel size of your bike for accurate results.
Websites
MapMyRide.com, Geodistance.com, Bikejournal.com, Veloroutes.org and similar websites allow riders to create maps of their routes, track miles traveled and keep journals about their adventures. Most of these websites require you to establish an account. Upon registration, you can access information provided by other riders, find new bike routes, compare your distances to others and find motivation to maintain a cycling routine. Map your route ahead of time, which will help you see the number of miles you're going to be riding; or post your route after the ride, to calculate how many miles you rode.
Cells and iPods
iTunes offers a Map My Ride app than you can download to your iPhone or iPod to track your miles, route and even calories burned. You can also choose among Strava, Runtastic and Garmin Fit. There is also a Map My Ride and Garmin Fit version for Android users. There's no fiddling with your computer at home if you download these handy apps. Check your stats as you ride.
Odometers and Bike Computers
For as little as $7 as of publication, you can buy a basic bike odometer with an LCD display. These units attach to your handlebars and run on standard batteries. If you purchase an odometer, double check to ensure that it displays the mileage in the system of measurement that you prefer -- kilometers or miles or both.
Bike computers attach to the handlebars and fulfill several functions. You can spend as much as $100 or as little as $15, depending on the quality of the unit, the information it provides and whether it has a back-lit screen and other options. These units weigh a couple of ounces and track everything from speed to trip time, trip distance, temperature, clock time and calories burned. The computers are useful for optimizing your workout routine, and some even include heart monitors.
GPS
Beyond the digital display of numbers provided by a bike computer, GPS units offer real-time mapping systems and sometimes color or topographic map displays. You can often upload the data from these units to your computer and download bike trail maps via a USB port. GPS units are ideal if you're mostly interested in navigation features, including mapping your route and tracking the altitude of your climb. These devices integrate many of the functions of bike computers, such as speedometers, heart rate monitors and other features. Some let you race against your previous record for a specific route.
References
Writer Bio
Jen Morel has worked in the newspaper industry since 2007. An experienced backpacker, she is a contributor to "AMC Outdoors" and other hiking/environmental magazines. She holds a Bachelor of Arts in cognitive science and philosophy.