How to Begin Gymnastics If You Are 15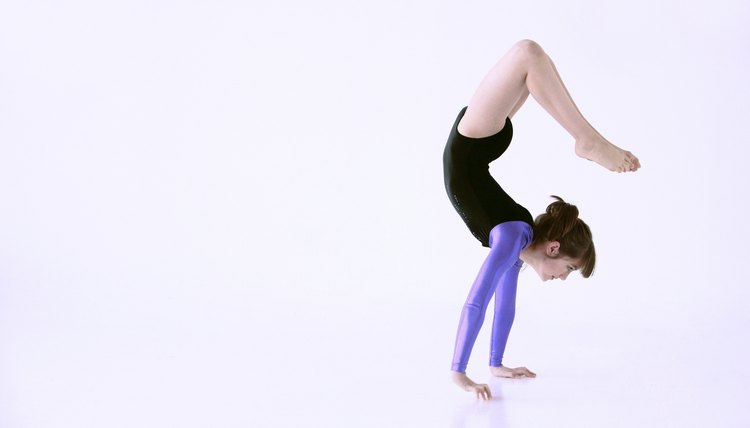 Carly Patterson was 16 years old when she won the all-around for women's artistic gymnastics at the 2004 Athens Olympics. Paul Hamm was 21 when he won the all-around for men's artistic gymnastics in Athens. Elite gymnasts begin the sport at very young ages because their bodies peak so early. That's especially true in women's gymnastics, where height is a disadvantage. But as long as you're not dreaming of Olympic gold, you are never too old to begin gymnastics. At 15, you may have 10 or more years left to enjoy the sport.
Talk to your parents about the commitment and cost. After the first week or two, most classes are nonrefundable. Many gyms are sticklers about punctuality and attendance and may drop you if you miss two consecutive classes or are regularly tardy. Ensure you have reliable transportation to and from the gym.
Enroll in a teen class for beginners if you are not looking to compete. Teen classes usually meet once or twice a week. If you would like to compete, look into private lessons with a coach who is committed to helping you pass each USA Gymnastics level quickly, as you cannot simply skip levels under the competitive rules. You will need to train several times a week if you plan to compete.
Practice a minimum of one hour at home every day, focusing on stretching to increase your flexibility.
Ask your coach to develop a weight-training regime for you to practice at home to build arm and core strength.
Take advantage of open-gym days on the weekend when you pay a small fee to use the gym for several hours. Coaches assist with spotting on drop-in days, but they do not give instruction as they do in class sessions. Open gym is the time to work on the events you cannot practice at home, which usually is anything other than the floor exercise.
Tips
Attend gymnastics camp during your summer vacation or enroll in an extra class during the summer.
If you're not dreaming of becoming a competitive artistic gymnast, you may consider tumbling, trampoline, acrobatic or rhythmic gymnastics. Focusing on one apparatus is significantly easier than learning the four in women's gymnastics and the six in men's.
Warnings
To avoid injury, have your coach show you the stretches and strength-training exercises you should do at home. You should not experience pain while performing these exercises. If something hurts, ask your coach to watch you do the exercise and give you pointers.
References
Writer Bio
Ivy Morris specializes in health, fitness, beauty, fashion and music. Her work has appeared in "Sacramento News and Review," "Prosper Magazine" and "Sacramento Parent Magazine," among other publications. Morris also writes for medical offices and legal practices. She holds a Bachelor of Arts in government-journalism from Sacramento State University.