High School Wrestling Moves & Rules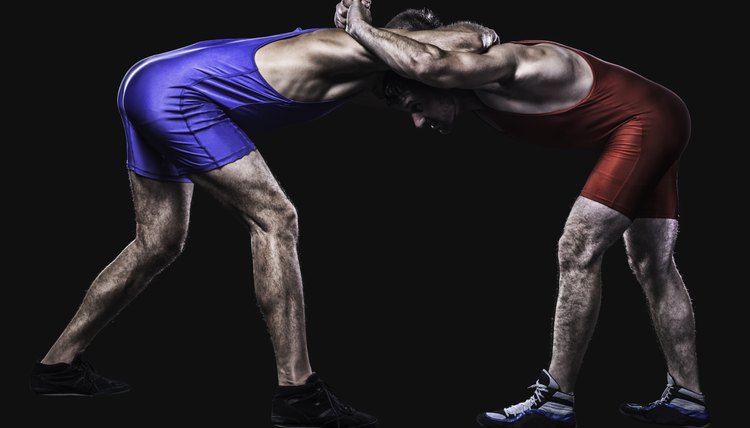 Despite wrestling's use of physical force, the sport's rules and conventions keep it surprisingly safe and injury-free. Understanding the rules and moves of wrestling can help you enjoy watching the sport, and help you make a decision about whether or not to participate -- or have your child participate.
Basic Structure
A wrestling match is usually divided into three rounds. Each round lasts two or three minutes, depending on the conference that sanctions the match. In a three-round match, the first round begins with both wrestlers standing. In subsequent rounds, both athletes might start standing, or with one on top and one on bottom in what is known as "referee's stance."
Basic Play
Different accomplishments in a wrestling match score numbers of points. Exactly how many points depends on the style of wrestling. Both wrestlers accumulate points over the course of the match. At the end of the match, a wrestler who is ahead wins by what's called "decision." A wrestler who wins by eight to 14 points scores a "superior decision." If at any time during the match a wrestler holds his opponent on his back for three seconds, the match ends and that wrestler wins by pin or "fall." A wrestler can also win by "technical fall" by widening the score margin to 15 or more points.
Takedown
One of the major ways to score in wrestling is the takedown, during which a wrestler takes an opponent from a standing position to the ground and establishes control. In collegiate wrestling, a takedown is worth two points. Similar to the takedown, and also worth two points, is the reversal. To score a reversal, the wrestler who has been taken down reverses position so he is the one on top and in control.
Escape
A wrestler who has been taken down can score one point by escaping back up to a standing position. To score an escape, a wrestler must not only be standing, but must have broken any grip his opponent has on him.
Near Fall
If a wrestler is on his back, but not for the full three seconds, his opponent scores points for a near fall. If this is held for long enough -- three to five seconds -- with his back at 45 degrees or less to the mat, his opponent also scores near fall points. A near fall is worth two or three points, depending on how long the wrestler's back was near the mat.
Other Points
A referee will award penalty points to the opponent of a wrestler who commits a foul. Stalling and unsportsmanlike conduct are the most common fouls in a wrestling match. In both cases, a wrestler usually receives a warning, followed by a one-point penalty. Further infractions can be worth two points, but just as often result in disqualification.
References
Writer Bio
Jake Wayne has written professionally for more than 12 years, including assignments in business writing, national magazines and book-length projects. He has a psychology degree from the University of Oregon and black belts in three martial arts.