Rules on International Tiebreakers in Women's Fastpitch Softball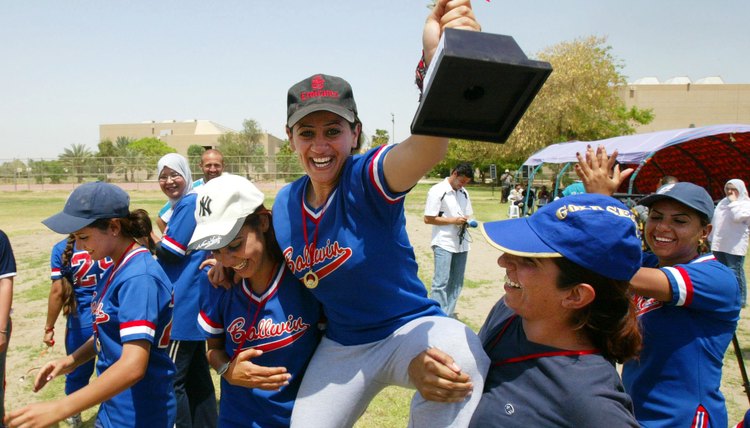 The "international tiebreaker" rule refers to the extra-inning rules set by the International Softball Federation. If a game under ISF rules is tied after seven innings, the tiebreaker rule is put into effect. The ISF rules apply to both fastpitch and slowpitch softball, although in the United States they are more widely used in fastpitch games. The intent of the rule is to bring extra-inning games to a speedier conclusion.
The International Tiebreaker Rule
Starting with the eighth inning, the offensive team begins the inning with the ninth hitter in the batting order placed on second base. According to ISF rules, "the player who is running can be substituted in accordance with the substitution rules." In Amateur Softball Association events, the tiebreaker may be used in tournament pool play games after 1 hour and 40 minutes -- even if the game hasn't reached the seventh inning.
The Tiebreaker and Strategy
By starting an inning with a runner on second base and nobody out, the offensive team can bunt the runner to third base. This forces the defense to pull its defense in and creates a variety of ways to score. While the international tiebreaker is an effective way to speed an extra-inning game to its conclusion, it can be a difficult way to lose a game. This is why its usage is limited in the U.S. college game.
International Tiebreaker in College Softball
The National Collegiate Athletic Association uses the international tiebreaker rule in regular season games, but not until the 10th inning. The NCAA no longer uses the tiebreaker in its Division I championship tournament. The National Association of Intercollegiate Athletics follows NCAA rules on the tiebreaker.
International Tiebreaker in Pro Softball
The National Pro Fastball league, like the NCAA, does not use the tiebreaker rule until games reach the 10th inning tied.
References
Writer Bio
Jeff Gordon has been reporting and writing since 1977. His most recent work has appeared on websites such as eHow, GolfLink, Ask Men, Open Sports, Fox Sports and MSN. He has previously written for publications such as "The Sporting News" and "The Hockey News." He graduated from the University of Missouri-Columbia School of Journalism in 1979 with a bachelor's degree.