Difference Between Little League Baseball & Soccer Cleats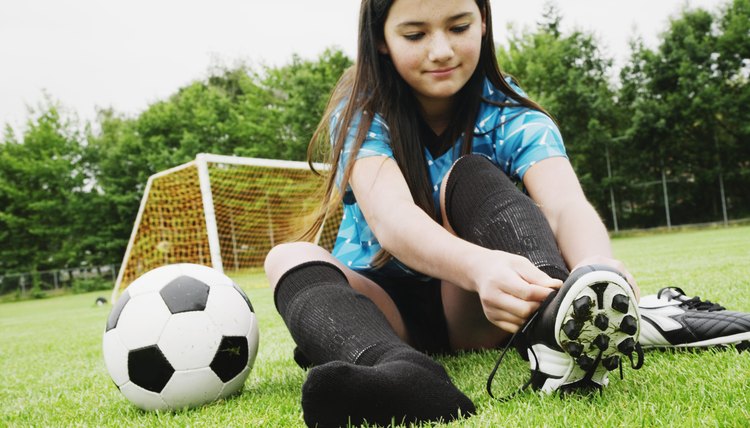 Your son is playing baseball and soccer. Your daughter is playing soccer and softball. Since those sports always seem to be played in the spring and fall, there are days you are literally running from one sport to the other in a matter of minutes. So, a fairly common question among parents is, can my kid wear the same cleats for baseball, softball and soccer? The answer, unfortunately, is not that simple.
See the Pattern
The major difference between soccer and baseball shoes is the pattern of the cleats on the bottom. On soccer cleats you will notice there is never a single cleat at the very front tip. The reason there is not single cleat at the front is because it can easily cause injury to an opposing player's shin. Soccer cleats typically have two front cleats that are spread apart.
Changes over Time
It used to be much easier to differentiate between soccer and baseball cleats. Soccer cleats were round and baseball cleats were rectangular in shape. This is no longer the case as soccer companies have altered the shape of the cleats on many models, such as the Predator and F-5 models by Adidas and the Mercurial by Nike, which have cleats that mimic the traditional, rectangular baseball cleat.
Important Equipment
In soccer, a player's shoes are his most important piece of equipment because his feet execute all of the game's most important skills. In baseball, particularly at the youth level, cleats are way down the list of essential equipment. If your son of daughter is a soccer player, invest in a quality pair of cleats that fit snugly and are comfortable. You may have to pay a bit more, but it's worth it. In baseball, look for comfort and durability at a reasonable price.
Going Both Ways
Soccer shoes can be worn for Little League baseball, but baseball shoes cannot be worn for soccer. If you're only going to buy your child one pair of shoes for both sports, buy soccer shoes. In most youth soccer leagues, referees are instructed to check the cleat pattern of each player's shoes before a game. If a player is wearing baseball shoes, she won't be permitted to play.
References
Writer Bio
Jeff Bradley is a freelance writer whose career has spanned more than 20 years. He has written extensively for "ESPN The Magazine," "Sports Illustrated" and the "New York Daily News."