Maximum Weight Limits of Recumbent Bikes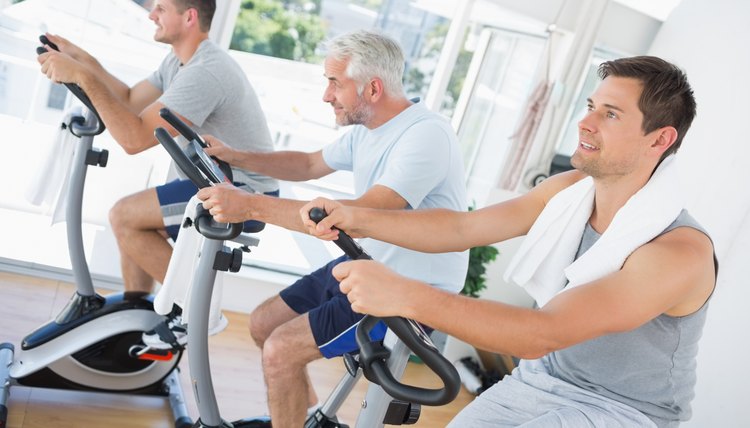 A recumbent bike is similar to an upright bike but is designed so that your legs are parallel to the ground while pedaling. Benefits of a recumbent bike include less pressure on leg joints, a design more comfortable for people with back problems and it's easier to mount, especially for people less steady on their feet. The weight limit on a recumbent bike refers to the amount of weight the machine can carry. If you use a recumbent bike underrated for your weight, you increase the chances of damaging the bike.
Exercise Recumbents
Weight capacity on a recumbent bike refers to the amount of weight the bike is able to support. Commercial recumbent bikes used in gyms typically have the highest weight capacity, which can range from 350 pounds and up, topping out at 500 pounds. These machines are designed for constant usage and heavier individuals. Weight capacity for home recumbent bikes range from 250 to 350 pounds. Schwinn offers a line with a weight capacity ranging from 275 to 300 pounds. ProForm also produces a line of highly-rated bikes for home use with a weight capacity of 300 pounds. Life Fitness is a high-end recumbent line with a maximum user weight of 300 pounds for their home gym model and 400 pounds for the club series.
Human-Powered Vehicles
Human-powered recumbent bikes may not be as popular as their upright, diamond-framed cousins, but they are comfortable and fast. They can also take some getting used to. Recumbent street bikes tend to be heavier than an similarly priced upright. They're also inclined to have lower carrying capacity than ordinary bikes. John Andersen of Bicycling Life, writes that the rear tire of most recumbent bikes carries more weight than the front, in some cases, up to 70 percent of the bike's weight. This weight distribution changes how the bike is steered and handled. Weight capacity on recumbent road bikes range from 230 pounds to 300 pounds for a long-distance, leisure bike. Some bikes, such as the Bacchetta touring and commuting bike include the weight of the gears in the weight capacity.
Big and Tall Riders
While there are a number of manufacturers of recumbent bikes, only a few make bikes suitable for big and tall riders. Lightfoot Cycles manufactures the Ranger, intended for riders up to 6 feet, 4 inches and 325 pounds. With modifications, the Ranger can carry a 7-foot tall, 325-pound rider. Also manufactured by Lightfoot Cycles, a customized Greenway Magnum model recumbent "trike" can accommodate a 425-pound rider. The Australian manufacturer Greenspeed also offers a Magnum model with a rider limit of 400 pounds.
Considerations
A high weight capacity on a recumbent bike can drive up the cost. High weight limits are for equipment that can take a lot of use and abuse. Unless someone in your home weighs more than 300 pounds, or you anticipate that the bike will be ridden regularly during the week, it's not necessary to purchase a recumbent in the highest weight class. You should know, however, the manufacturer does have the right to void your warranty if you've damaged your bike by violating the weight limit.
Writer Bio
Shannon Marks started her journalism career in 1994. She was a reporter at the "Beachcomber" in Rehoboth Beach, Del., and contributed to "Philadelphia Weekly." Marks also served as a research editor, reporter and contributing writer at lifestyle, travel and entertainment magazines in New York City. She holds a Bachelor of Arts in literature from Temple University.