Trek 4300 vs. Trek 3900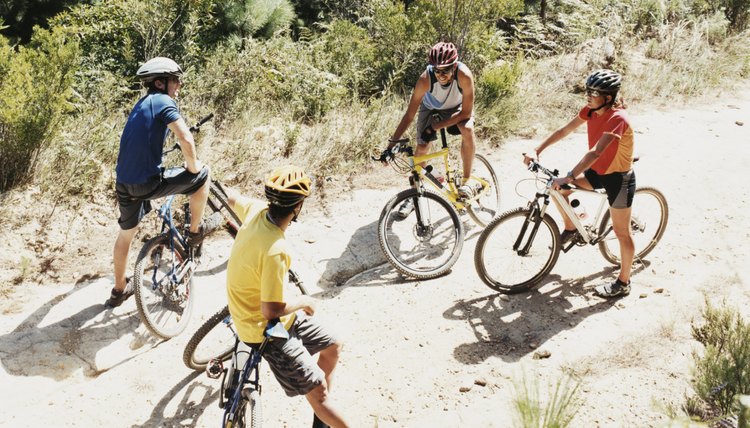 Cyclists seeking a rough, off-road riding bike may end up deciding between the Trek 4300 or Trek 3900. While the Trek 4300 suits riders who enjoy attacking rugged trails with rocks, logs or other obstacles, the Trek 3900 may appeal to commuters who get in a weekend trail ride. Similar in looks, they have a few feature differences that set them apart from each other.
Trek Mountain Bike Groups
As of 2014, the Trek 4300 was a top-end model in the Mountain, Sport, 4 Series group. The Trek 3900 -- the model without disc brakes -- was no longer made at that point, but it was a top-of-the-line model in the Mountain, Sport, 3 Series group. In 2012, Trek upgraded the Trek 3900 to a disc-brake version -- the Trek 3900 Disc.
Frame Material and Color
Trek frames are made with different grades of carbon and different levels of aluminum. The Trek 4300 is made with a lightweight aluminum alloy. A blended, lightweight aluminum was used to make the Trek 3900. The Trek 4300 has a white and red finish while the 3900 came in a matte, metallic black and grey finish.
Size Matters
The Trek 4300 comes in several sizes, as did the Trek 3900. Trek sizes bike frames according to the seat tube, or the tube that holds the seatpost. The measurement is taken from the bottom bracket to the top of the seat tube. The Trek 4300 comes in five frame sizes ranging from 15.5 to 23.5 inches. The Trek 3900 came in six sizes ranging from 13 to 22.5 inches.
Drivetrain and Components
The Trek 4300 has Shimano hydraulic disc brakes, while the 3900 was made with linear-pull brakes and Shimano levers. Even though the parts aren't the same, the shifters, front and rear derailleurs, crank and cassette on both were made by Shimano. Bontrager made the saddle, seatpost, handlebar and stem on both, but the parts are different between the models. The Trek 4300 is a 9-speed and the 3900 was an 8-speed.