What Do You Do in Soccer Tryouts?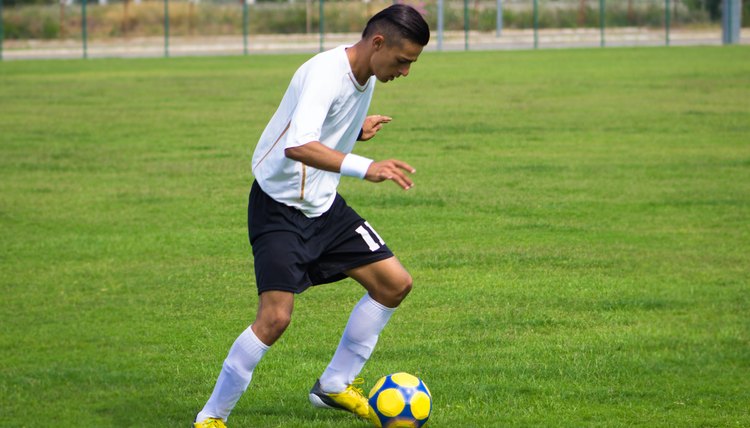 Many school-aged children across the country try out for soccer each year. Soccer tryouts can be highly competitive, especially for travel teams, and knowing what to expect can give your child an advantage. Soccer coaches look for speed, agility, accuracy and team spirit when choosing young athletes.
The Speed Factor
One of the most important factors for any soccer player is speed. Getting down the field quickly can mean the difference between a win and a loss. According to the Prince William Soccer Inc. website, coaches look for players who can react and think ahead quickly. Soccer tryouts include testing players' ability to run quickly and drills involving soccer ball handling to see how quickly a player moves a ball down the field.
Absolute Agility
Being able to move the ball quickly with control is an important soccer skill. Players should be able to avoid collisions during tryouts and be able to move in all directions with the ball while being nimble on their feet. At soccer tryouts, players have to dribble the ball in, out and around the cones to show how well they handle the ball and move their bodies around obstacles.
Essential Endurance
Although speed is a top priority, soccer players also need endurance to be able to run for most of a 90-minute game. Thus, soccer coaches look for players who have the necessary physical conditioning. In addition to sprints, those trying out should also expect to run longer distances to test their ability to move after long periods of time. Game On Arena Sports of Fort Worth rates good conditioning at the top of their list when it comes to choosing soccer players. It recommends soccer hopefuls to practice their skills every day to improve their conditioning before tryouts.
A Positive Attitude
At tryouts, coaches also look for positive attitude and dedication. Come to tryouts dressed properly and with all equipment in place. Have necessary paperwork filled out and ready for submission. Pay attention to what the coach is asking you to do and focus on what you are doing during the drills. Speak to the coach and others at the tryout with respect. The Prince William Soccer Inc. website reminds players that coaches want to build teams with reliable people who will be at every practice and every tournament. Show the coach you can make that commitment.
Writer Bio
Patti Richards has been a writer since 1990. She writes children's books and articles on parenting, women's health and education. Her credits include San Diego Family Magazine, Metro Parent Magazine, Boys' Quest Magazine and many others. Richards has a Bachelor of Science in English/secondary education from Welch College.