How to Swim in the Ocean at Night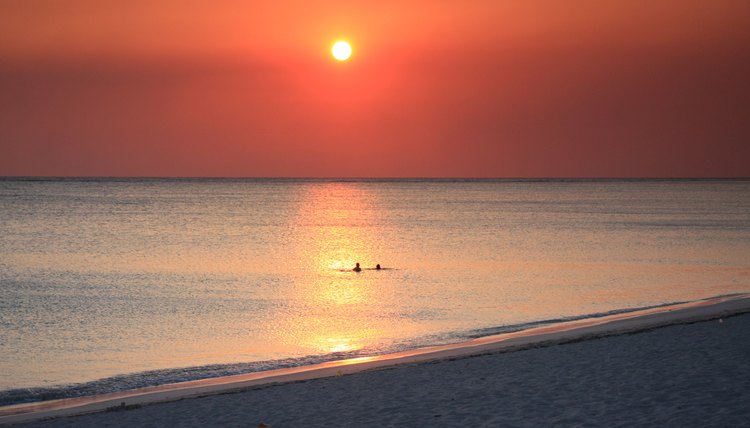 Swimming in the ocean at night might be on your to-do list and can be accomplished if you follow safety swimming guidelines. Not all beaches are open to nighttime swimming. If your swimming location does not have posted hours of operation, contact the local police department so that you will be in observance of local laws regarding night swims. Without the commotion of crowds on the beach and in the water, swimming in the ocean at night can be a peaceful and memorable experience.
Consult a local tide chart before your night swim. Determine if the tide will be low or high. A low tide will place you farther out into the ocean and into the path of more sea creatures.
View local sign postings for cautions regarding jellyfish or stingray. Wear shoes to protect your feet from animals, shells and other debris.
Mark your entry point into the water with a light such as a flashing light or lantern. Begin your swim just before sunset if possible to use the natural light as you enter the ocean.
Swim with a friend. Use the buddy system when swimming in the ocean at night. Stay close to each other while swimming.
Keep the shoreline in sight or swim parallel to the beach. Reserve energy for your return swim and remember that swimming in cold water uses more energy than swimming in warm water.
Keep your body as low as possible in the water, or swim underneath it when a large wave approaches.
Swim parallel to the shore when the current is strong. Swim on a diagonal line toward the shore if you get pulled out too far with a current.
Tips
Wear a glow stick or reflective tape on your arm so others can see you. Always face the ocean instead of turning your back to the water.
Warnings
Do not dive into the ocean. Do not swim while intoxicated or under the influence of drugs.
References
Writer Bio
A mother of two and passionate fitness presenter, Lisa M. Wolfe had her first fitness article published in 2001. She is the author of six fitness books and holds an Associate of Arts in exercise science from Oakland Community College. When not writing, Wolfe is hula-hooping, kayaking, walking or cycling.