Women Wrestlers Vs. Men Wrestlers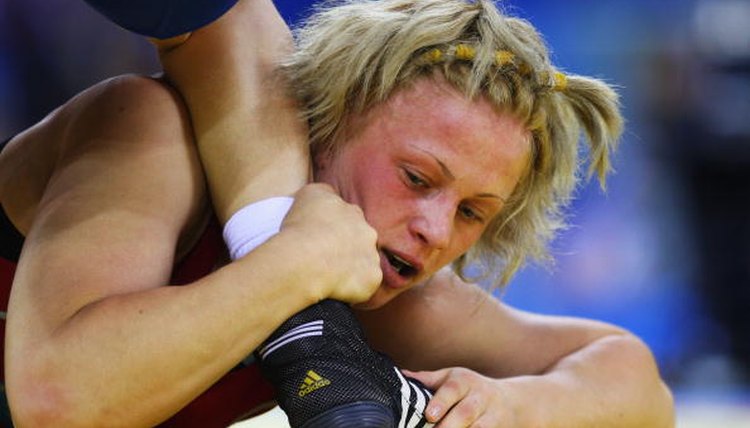 With the help of Olympic exposure, women's freestyle has become a growing sport. More girls are wrestling at the high school level and several colleges have established women's programs. But in much of the country, girls must still compete against boys. Since 2004-05, 21 women have wrestled for men's college teams. According to the National Federation of State High School Associations, more than 6,000 girls wrestled in 2009-2010 compared with nearly 275,000 boys. Only five states offer girls-only tournaments and inter-gender wrestling has caused some controversy. At the Iowa state tournament, a male wrestler cited his religious beliefs and refused to wrestle a girl.
The Physical Match-Up
Physically mature female wrestlers often hold their own against still-developing male wrestlers at the high school level, but relative strength is an enormous factor in this sport, so skill becomes very important for females. "The boys don't give an inch," Wingate High School wrestler Nyassa Bakker told the "New York Daily News." "After a few matches you learn to use technique instead of strength."
The Iowa Controversy
Sophomore Joel Northrup, 16, defaulted in the Iowa state high school tourney rather than wrestle Cassy Herkelman. She was 21-13 in 2011, with eight pins, and she qualified for the state event by finishing second in her district. "I have a tremendous amount of respect for Cassy," explained Northrup, who was 35-4 in 2011. "However, wrestling is a combat sport and it can get violent at times. As a matter of conscience and my faith I do not believe that it is appropriate for a boy to engage a girl in this manner."
Growth of Girls High School Wrestling
As of publication, five states have girls-only tournaments: California,Hawaii, Texas, Washington and Tennessee. The California Interscholastic Federation held its first girls high school tournament in 2011. Tianna Camous won the 122 lb. event for Folsom High School, finishing the year with a 38-0 record. The former junior varsity football player developed her skills wrestling both girls and boys. "No one has refused to wrestle her, but you can tell that they are reluctant," said her coach, Mike Collier. "Because of her success and reputation, they know that they not only have to wrestle a girl, but that there's a pretty good chance they're going to lose the match. It's really a no-win situation for them."
Growth at the Collegiate Level
Women's wrestling is growing at the small college level, giving females a chance to compete against females. "The college-level development is our missing link," Olympic wrestler Patricia Miranda told "The New York Times" in 2008. "I'm not saying it's a weak link, it's a missing link." Miranda competed at the collegiate level for the Stanford University men's team.
References
Writer Bio
Jeff Gordon has been reporting and writing since 1977. His most recent work has appeared on websites such as eHow, GolfLink, Ask Men, Open Sports, Fox Sports and MSN. He has previously written for publications such as "The Sporting News" and "The Hockey News." He graduated from the University of Missouri-Columbia School of Journalism in 1979 with a bachelor's degree.