Types of Bike Brakes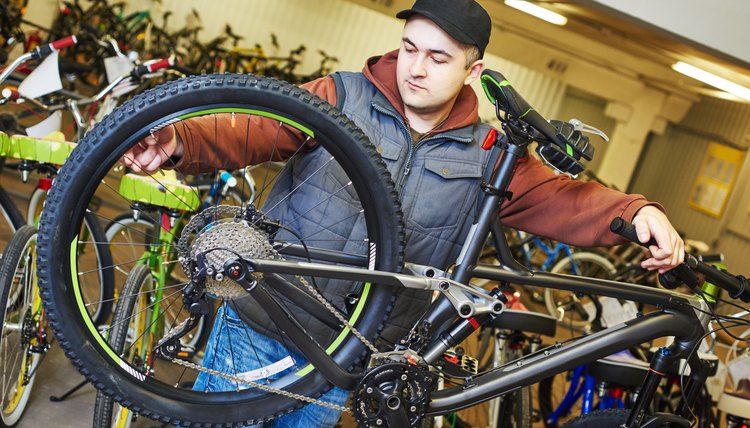 There is a range of bike types and brakes, depending on whether the bikes are built for use on pavement or off-road. These bikes require specific brake systems and wheel rims, and they can range from simple to complex depending on cost and intended purpose.
Cantilever Brakes
Cantilever brakes are the most common type of brake on mountain bikes. Each pad mounts to either side of the fork that secures the wheel to the frame, and two levers draw the brake pads onto the wheel rim when the brake wire is tightened. Cantilever brakes can only be installed on certain bikes because the frame has to have holes drilled and space reserved for the brakes. These brakes are popular because they're cheap to produce and light on your bike.
Disc Brakes
Disc brakes are the strongest type of brake, and for that reason they're popular on mountain, touring and cyclocross bikes where stopping can be harder than on normal surfaces or with normal carried weight. These brakes also work well regardless of weather conditions, but they're expensive and heavy. Their weight makes them undesirable for road bikes.
Caliper Brakes
Caliper brakes are the most common type of brake used on road bikes, particularly models made before the 1990s. This brake uses an arched or horseshoe-shaped bracket to hold the brake pads near the wheel rim, and pivot joints on the bracket move when the brake cable is tightened to draw the pads onto the wheel rim.
Center Pull Brakes
Center pull brakes feature a Y fork that holds the brake pads alongside the rim. They are a more technical type of brake and can require special equipment to adjust and repair, but they're popular for touring bikes.
Writer Bio
Jonathan Croswell has spent more than five years writing and editing for a number of newspapers and online publications, including the "Omaha World-Herald" and "New York Newsday." Croswell received a Bachelor of Arts degree in English from the University of Nebraska and is currently pursuing a Master's of Health and Exercise Science at Portland State University.