Dual Suspension vs. Rigid Mountain Bikes for Beginners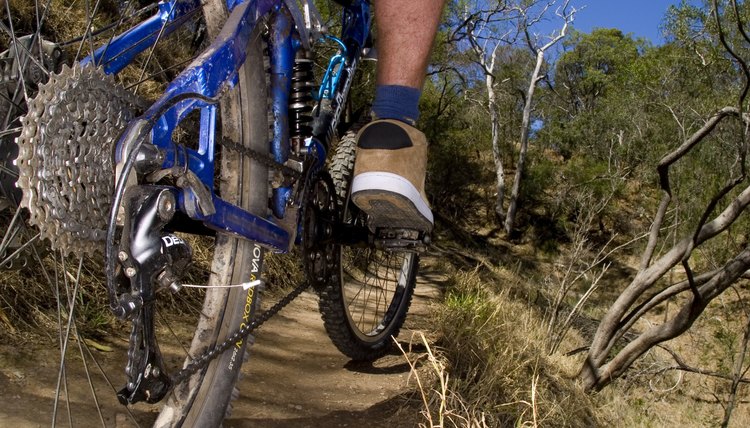 Mountain biking gives riders the ability to traverse rough terrain and explore the outdoors in a rugged, adventurous manner. Mountain biking is rough at times because of wilderness terrain and various obstacles, and mountain bike companies offer different types of suspension systems to help alleviate the wear on both the bike and rider from harsh riding. Hardtail mountain bikes have a rigid frame with shock-absorbing suspension in the front fork. Dual suspension, or full suspension bikes, have suspension in both the front fork and in the rear of the frame.
Advantages of a Hardtail
Hardtail mountain bikes accelerate well and provide good pedal performance for off-road biking. They climb well and tend to be light, depending on the frame. Hardtails are quite common and tend to offer better components for the money when paired with a similar full suspension bike. These mountain bikes are quite maneuverable and responsive, which makes them great for singletrack and trails that are smoother with occasional obstacles, such as roots or rocks.
Advantages of Full Suspension
Dual suspension bikes absorb impact in not only the front of the bike but also in the rear. Heavier than their rigid counterparts, dual suspensions are significantly more comfortable on rugged terrain filled with obstacles. Full suspension bikes don't give their riders the best pedal performance but offer riders with back injuries better support. They perform well off jumps and for downhill riding -- not to be confused with a downhill trail, which necessitates a downhill bike.
Things to Consider
Before choosing between a dual suspension or a hardtail, it is important to ask yourself a few questions. What type of riding will you be doing? Will the terrain be moderately smooth with some obstacles such as roots, rocks and bumps; or will you be riding on more rugged terrain? Is it important to have a lighter bike? Is maintenance a concern for you? Do you need a bike that is responsive and maneuverable? Do you want to conserve more energy? Is cost a concern?
Full Suspension or Hardtail?
Neither a full suspension or a hardtail is better than the other, because each is well-suited for certain terrain and riding styles. Dual suspension bikes are more comfortable on rugged terrain and offer a smoother ride. They are good for going off jumps and riding downhill. Full suspension bikes are usually heavier than hardtails and waste more energy when pedaling because any suspension absorbs the riders pedal force as well as bumps. Hardtails require less maintenance than dual suspension bikes. They tend to be cheaper so you can get better components for the money. Hardtails are significantly lighter than dual suspensions. They maneuver and accelerate well and are great for climbing up hills. Hardtails are responsive and handle well. So, if your trail is not severely rugged, you will get better pedal performance from a hardtail, conserving more energy. If the trail is rugged, or if you suffer from discomfort, injury or saddle soreness, a dual suspension may be the better choice.
References
Writer Bio
Drew Menard currently works as a cycle technician and writer. He has experience in copy editing, layout design, coaching high-school basketball and holds a certification in personal fitness training. Menard received his bachelor's degree in journalism from Liberty University, where he won an award for column writing in a collegiate competition.