What Do I Need to Be Able to Do for Cheerleading Tryouts?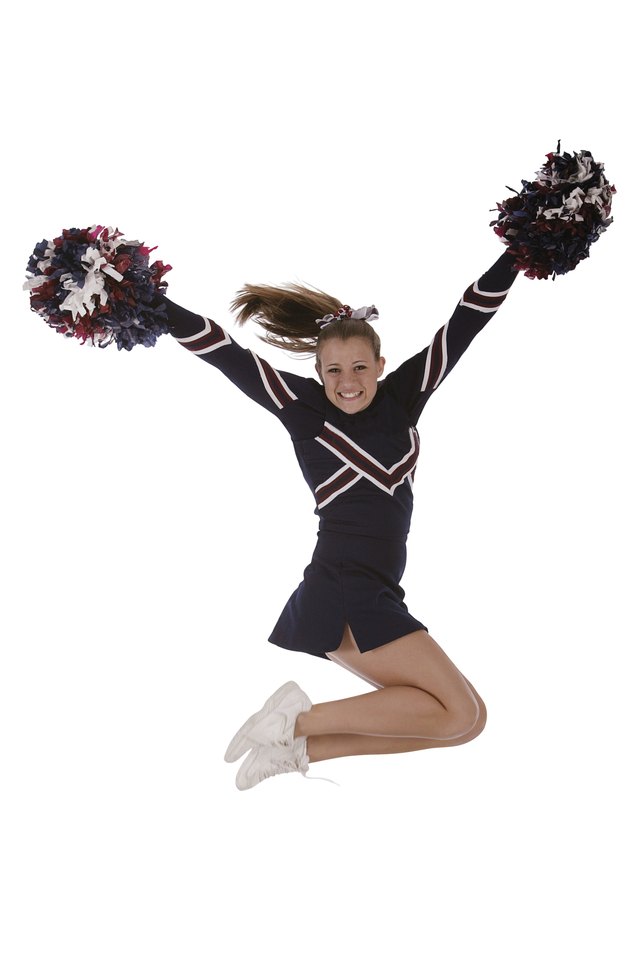 Before you backflip your way down the football field before the big game, you have to land that coveted spot on your high school's cheerleading team. Although every school's tryout expectations vary, there are some cheer and tumbling staples you can expect at any tryout. Understanding the tryout requirements can help you prepare for your best performance.
Jumps
You should be able to perform a range of classic cheerleading jumps during your tryouts. Practicing these jumps weeks or even months ahead of time can perfect your moves for the tryout and help to earn you a spot on the squad. The jumps that most schools expect potential cheerleaders to perform include the toe touch, herkie, side hurdler, roundoff and front hurdler. Advanced tumbling moves should only be practiced if you are already a gymnast.
Tumbling
A foundation in gymnastics can boost your tryout score and land you on the cheerleading squad. Your school will likely expect you to perform a cartwheel and roundoff during the tryouts. More advanced gymnastics moves can boost your score. Work on a back handspring, roundoff followed by a back handspring or back tuck to improve your tumbling score during tryouts. Flexibility is also important to be able to do the splits and a straddle.
Cheer
You will be expected to perform a cheer during tryouts to showcase your cheerleading skills. Expect your cheerleading coach to teach you and other potential cheerleaders the same cheer to perform during tryouts. You should show precise movements and correct timing during the cheer routine. You should also show plenty of energy and project the cheer clearly in a loud voice.
Dance
Many cheerleading squads also perform dance routines, so you might be expected to showcase your dance ability during the tryouts as well. Again, you will be taught this dance before you try out -- and you might perform it with other contenders. During the dance routine, you should show enthusiasm and smile while you follow the proper movements taught to the rhythm of the music.
References
Writer Bio
Barbie Carpenter worked as a technical writer and editor in the defense industry for six years. She also served as a newspaper feature page editor and nationally syndicated columnist for the Hearst Corp. Carpenter holds a Bachelor of Science in journalism from the University of Florida and a graduate certificate in professional writing from the University of Central Florida.