Can You Run Wearing Basketball Shoes?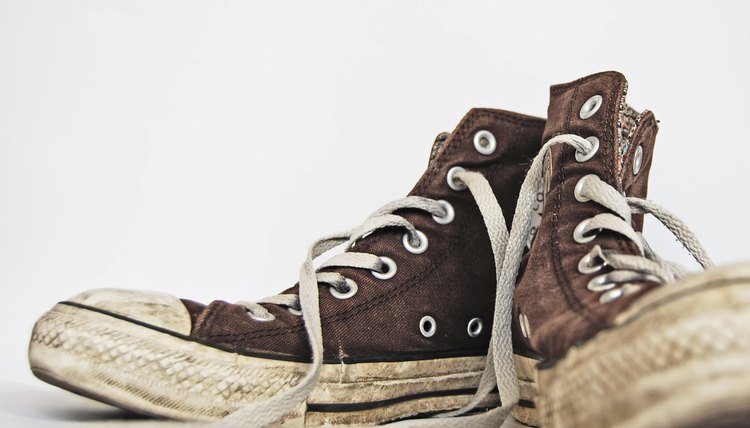 Using the wrong type of shoes for a sport can lead to soreness and injury. Running a few miles one time in your basketball shoes is unlikely to cause permanent harm. But making a habit of running in basketball shoes can slow you down, negatively affect your form and even cause injury.
Running Shoes
Running shoes are built for forward movement. Some models promote stability in the foot – to discourage over flattening or heightening of your foot's arch. Running shoes tend to be light, so you can use minimal effort lifting your foot during your stride. When you run, your body withstands a shock equivalent to 2.5 times your body weight. Running shoes with cushioning in both the heel and the forefoot help you handle this. Running shoes are flexible and designed to move with your foot.
Basketball Shoes
Basketball shoes are cut high to promote ankle stability during jumps and quick directional changes. Cushioning in basketball shoes tends to be mid-foot, so the weight of the sole is lighter, allowing for quick maneuvers. Basketball shoes have specific features on the outer sole that help you maintain stability and traction on the court.
Running in Basketball Shoes
You certainly run around the court wearing basketball shoes, but the game starts and stops – you do not spend a continuous, concentrated amount of time running forward. Basketball shoes will not provide the cushioning and stability for a continuous run that running shoes provide. The outer sole of basketball shoes is designed for optimal traction on wood floors or asphalt – not trails or sidewalks. The higher cut of basketball shoes may interfere with your running form, and the heavier quality of the shoe may slow you down. Because basketball shoes provide you with stability during quick movements, they aren't as flexible as running shoes, which may also affect your gait. If you have a specific stride issue, such as pronation or supination, basketball shoes may not correct this – leading to injury.
Considerations
If you go for a short run of 2 to 3 miles just once or twice per week, you can get away with using your basketball shoes. If you plan to run more often, three or more times per week for more ambitious distances – you should invest in running shoes. Even if you run short distances but experience knee, hip or shin pain, you should consider investing in a pair of shoes designed for running.
References
Writer Bio
Andrea Cespedes is a professionally trained chef who has focused studies in nutrition. With more than 20 years of experience in the fitness industry, she coaches cycling and running and teaches Pilates and yoga. She is an American Council on Exercise-certified personal trainer, RYT-200 and has degrees from Princeton and Columbia University.